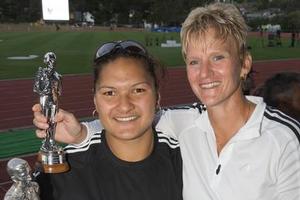 Olympic and World Championship-winning combination Valerie Vili and Kirsten Hellier have parted ways.
Vili made the announcement at a press conference this afternoon, saying it was a difficult decision to make.
The 25-year-old world, Olympic, Commonwealth and New Zealand shotput champion said it was "like a divorce" but that the decision was mutual.
Hellier said that, after more than a decade of domestic and international success for the Aucklander thrower, it was time for Vili to enter the next phase.
"After 11 wonderful years, I have reached the level where I feel I can no longer give Valerie what she needs in order to continue her progression as an athlete," Hellier said in their statement.
"My confidence in Val's abilities has not altered and I wish her nothing but happiness, love and success for the future. My desire now is to explore new business and career opportunities and spend more time with my family."
The decision had been a tough one, but Hellier and Vili said they agreed it was time for Vili to have new input into her athletic career.
"It's sad to be losing Kirsten from my team," Vili said. "It's been amazing what we have achieved together but I have more to do yet.
"We have talked together about the future and feel this is the best pathway to take.
Vili added: "Kirsten has always been more than a coach to me. She has been an amazing mentor and friend. That part of our relationship will not change."
Both Hellier and Vili are taking scheduled and well-earned holidays, before Vili returns to her training programme and turns her focus towards defending her title at the Commonwealth Games this year, and then her Olympic title in London in 2012.
Vili's 2-1/2 year winning streak was ended recently when she was beaten at the world indoor athletics championships in Qatar two weeks ago.
Long-time rival, Nadzeya Ostapchuk, of Belarus, won the competition with a championship record of 20.85m while Vili managed a personal best indoor effort of 20.49m.
She said afterwards the defeat would make her more hungry for the next competition.
Vili was the defending indoor world champion and had last been beaten in competition in September 2007.
The 1.96m Aucklander has won every major title available in international competition in a career which has so far spanned eight years. She defended her world title in Berlin last year, then threw a personal outdoor best of 21.07m in Greece shortly afterwards.
Vili won gold at the 2008 Beijing Olympics, took the Commonwealth Games gold in Melbourne in 2006, and won the world junior title in 2002.
Hellier had coached Vili for more than a decade, and won Coach of the Year at the 2009 Halberg Awards after Vili's Olympic and World Champion wins.
In the past, Vili has compared her relationship with Hellier to a marriage.
"We have spent more time with each other than with our husbands," she said earlier this year as she accepted the supreme title at the Halberg Awards.
- NZPA, NZHERALD STAFF