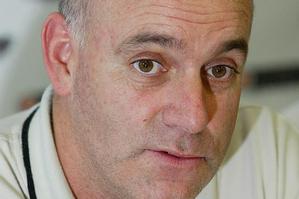 From basketball powerhouse to Bunch of Losers, the demise of the Auckland Stars is complete.
A foundation member of a league that started in 1982, the nine-time champions are dead in the water.
Initially suspended from the league on February 17 after failing to declare debts to former player Dillon Boucher and coach Kenny Stone, the Stars had pledged to take their fight for survival to the courts.
But, in a bizarre final twist, the Herald understands Stars owner Tab Baldwin withdrew claims to a place in the league after NBL lawyers discovered the club had been struck off the companies register in July last year.
That meant the Stars effectively ceased to exist and so could not enter this year's league.
A Herald search of the companies register revealed the club changed its name from Auckland Stars Ltd to Bunch of Losers Ltd in November 2008.
The timing appears to have been prophetic, with the Stars failing to make the playoffs after a miserable 2009 campaign.
Baldwin, the Turkey-based former Tall Blacks coach, did not respond to email interview requests.
NBL chairman Sam Rossiter-Stead confirmed that the three-year licence granted to the Stars was null and void.
Players were turned away from practice last week and told the club would be wound up. The Stars' sole contracted player, Hayden Allen, has switched to Waikato Pistons and will play for the defending champions in their season-opener against Nelson in Te Awamutu tonight.
Allen had been in dispute with the Stars for some time after the club blocked his return to former club Harbour Heat.
The Herald understands the Stars defaulted on Allen's first salary payment, instead informing him that he had been fined for failing to attend training sessions and that he would have to perform community service before being able to return to the team.
Baldwin told the Herald last week that Allen would not be released, however Rossiter-Stead confirmed the Stars had since agreed to release all players.
That decision came too late for Harbour, with the club recruiting former Wollongong and Souths Dragons import Kavossy Franklin to fill their vacant guard spot.
An impressive performer in the ANBL, American-born Franklin adds more firepower to Heat's roster, which already packs Breakers stars Rick Rickert, Dillon Boucher and Corey Webster.
Harbour begin their campaign against Otago at the NorthShore Events Centre on Saturday night.
Rossiter-Stead said work was under way to ensure an Auckland team returned to the league next season. He did not rule out a Baldwin-owned team being re-admitted to the league.