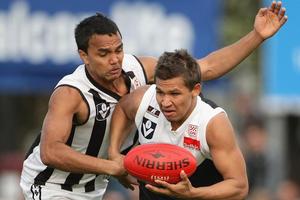 The AFL could be forced to cancel its season if Australia wins the right to host the 2018 or 2022 soccer World Cup, AFL chief executive Andrew Demetriou said yesterday.
Demetriou said if Fifa could claim exclusive access to the nation's biggest stadium - the 100,000-capacity MCG - for four months, it would be impossible to schedule a viable AFL season.
Even though the World Cup lasts for only 4 weeks in June-July, Demetriou said the AFL had learnt the MCG could be decommissioned for four months while it was refitted for soccer.
"The World Cup starts ... in June and there's four or five weeks of securitising it, putting signage up," he told the Fairfax Radio Network. "They would commence work in late March or early April and that would probably mean we'd just have to cancel the season because that would mean we wouldn't have the MCG for 16 weeks.
"We could probably do without it for 10 weeks and we'd have to play at Etihad Stadium. But we couldn't do it [for 16 weeks], we'd have to cancel the season," he said.
"We've even toyed with the possibility of suspending the season for four weeks because that's what we originally thought was going to happen.
"And that could work, it's not easy but it could work. We're trying to find ways to accommodate the FFA ... but we haven't had much come back the other way."
In 2000, the AFL season began a month early so it could finish before the Sydney Olympics.
"Cancelling a season is a disaster. The cost is monumental and I'm talking hundreds of millions of dollars." Demetriou said it would also put clubs at risk.
England are favoured to win the right to host the 2018 World Cup finals, but Australia's bid for the 2022 competition continues to gain momentum.
Fifa will vote on the host nations for both tournaments in December next year.
- AAP