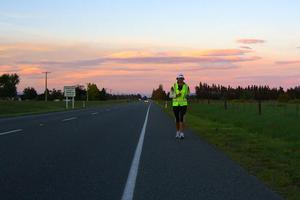 Injury problems have hit ultramarathoner Lisa Tamati, just ten days into her epic run the length of New Zealand.
The New Plymouth woman is running approximately 2,200km in 33 days or the equivalent of 52 marathons, from Bluff to Cape Reinga.
"Very slow progress today. My body is starting to let me down big time," says Tamati in her latest blog posting, covering the leg from Belfast to Motunau, north of Christchurch.
A mobile physio was called out onto the road to help, after Tamati suffered a tear in her right hamstring coupled with "really bad shin splints" in the left leg.
"Each step is just so painful. I managed 58km today, yet those km's took me 11 hours," she says.
"I am now 6km behind schedule... which is not a lot of distance, yet when each step is painful, the thought of making up 6km tomorrow really deflates me."
She signs off:
"I'll write more soon, just need to go and have a rest."
Tamati is raising money for two charities through the event, CanTeen (for teenagers and their families fighting cancer) and Curekids (dedicated to finding cures for illnesses that affect children).
The push to get New Zealand children outdoors and active is another part of her mission.