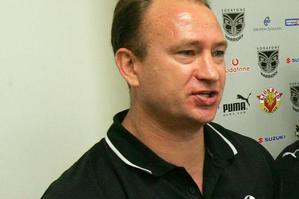 Dean Bell and Tony Iro are the big winners in the management restructure confirmed by the Warriors yesterday.
Bell, previously manager of the under-20s, has been appointed to the newly created recruitment and development manager's role.
He will head the club's scouting and talent identification efforts, giving him a big say in players brought in to the club.
The club's foundation captain, Bell held a number of backroom positions at Wigan before returning to New Zealand to link up with the Warriors two years ago.
His repatriation was greeted by the club as something akin to the return of the Messiah, so it is no surprise to see him step into a more senior position.
The straight swap of roles between Iro and Warriors' assistant coach John Ackland is a promotion for Iro, the former Kiwis international many see as being groomed to take over the head coaching role.
Iro has made a sound start to his coaching career, although he will have been disappointed with the rather limp finish produced by his under-20s side this season.
Ackland will continue to provide assistance to the NRL side and while on the face of it his switch looks like a demotion, he said last night he was feeling positive about the change of role.
"I'm really excited about it. It's a chance to coach my own team and that's something I haven't done for five years."
Many of the other changes have a cosmetic look about them, but there will be significant changes of job description to go with the new titles.
Don Mann, previously the NRL team's football manager, is now football operations manager, overseeing all performance, medical and welfare aspects of the NRL, NYC and development squads.
Strength and conditioning coach Craig Walker becomes the high performance manager, heading up the team of trainers involved with the NRL and NYC teams, as well as the club's development squad.
And the NRL team's physiotherapist Jude Spiers takes up the position of medical services manager covering all three squads.
Those changes will not become particularly relevant until new staff are appointed to the various departments to add some flesh to the bones of a commitment to put more resources into the football department.
They do, however, represent a more streamlined approach to the club's operations.
"We looked at a number of clubs to see how they ran their football operations and it became clear to us that we needed to change our football structure to put us on the same footing," chief executive Wayne Scurrah said.