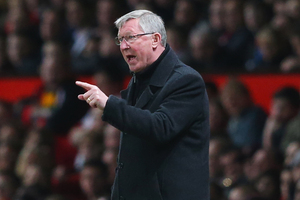 The sporting week in numbers - the Fergie edition: Compiled by Kris Shannon of APNZ
1500 - When Sir Alex Ferguson calls it a day after 27 seasons managing Manchester United, he will have been in charge for 1500 matches. His final game is against West Brom on May 20 (NZT) while his last game at Old Trafford, where he will lift his 13th Premiership trophy, is against Swansea on Monday.
267 - As it stands, Ferguson has been defeated on just 267 occasions in those 1500 games, meaning he has avoided defeat in 82.2 per cent of all matches at United. Included in those 1500 games are 527 wins in the English Premier League, a mark which stands at 161 more than any other manager.
17 - When Ferguson announced his retirement on Wednesday, it was 9680 days since he was appointed on November 6, 1986. With many of his former players now managers in their own right, there are 17 players in United's current first team squad who were not even born when Ferguson took the reins.
1146 - During those 26-and-a-half years with the Red Devils, Ferguson has seen off more than his fair share of opposing managers. In England's top four divisions, in which 92 teams participate, there have been 1146 managerial changes during Ferguson's tenure, an average of 12.5 per club.
24 - Looking around Europe at Ferguson's greatest opponents, Real Madrid leads the way with 24 different managers during his time in charge. Inter Milan have had 19, Chelsea lead England with 18, Bayern Munich, Juventus and Manchester City have all had 14, while AC Milan have had 13.
17 - Now Ferguson has hung up the hairdryer, Arsene Wenger will be the longest-serving manager in English football with 17 seasons at Arsenal. And with Everton's David Moyes leaving after 11 seasons to replace Ferguson, Stoke's Tony Pulis sits second behind Wenger with seven seasons.
22 - Ferguson's first five years in charge were all about rebuilding the once-glorious United and, since then, he has never let United finish outside of the top three in England's top flight. In fact, in 22 seasons United have finished outside the top two on only two occasions - 2002 and 2005.
5,750,000 - With Ferguson's retirement announcement coming on Wednesday morning in Britain, the Guardian website enjoyed the busiest day of traffic in its history. With 5.75 million visitors, Fergie's departure eclipsed that of even Pope Benedict XVI in terms of web traffic.
49 - After almost four decades in management, Ferguson will retire with 49 trophies to his name. He won one with Scottish club St Mirren before moving on to claim 10 pieces of silverware with Aberdeen. Then, after moving across the border to United, Ferguson lifted 38 trophies in 27 seasons.
29 - The glut of trophies - from the Scottish first division trophy with St Mirren in 1977 to United's league title this year - lasted 36 years. That means the 71-year-old's streak of silverware spans more than half of his life and a remarkable 29 per cent of football's codified history.
- APNZ