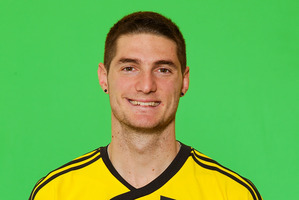 For some players on the football field the ball just falls their way.
Most followers of the game wouldn't be able to tell you what it is about these players but for some reason they just seem to have an uncanny knack at producing the goods when their team needs it most.
Corey Gameiro, who has joined the Wellington Phoenix on loan from Fulham for the rest of the A-League season, gives you the impression he is one of those types.
With his confident disposition, Australian twang and a stud in each ear, he seems like he could be a savvy pick up for a struggling Phoenix side who are in desperate need of a spark.
Gameiro spoke to the media for the first time this week following his arrival in Wellington and offered this on what he brings to the pitch.
"Probably my speed,'' he said. "And, in and around the box, I'm just one of those lucky ones that if it's going to fall to someone it's going to be my foot.
So hopefully I can get a couple of chances and see if I can put them away.''
There's some numbers to back up the moxy, too.
The Wollongong-born frontman, who recently turned 20, bagged all six of Australia's goals at last year's under-19 AFC Championship tournament as he helped his side qualify for the upcoming under-20 World Cup that will be contested in Turkey through June and July.
Gameiro first agreed to professional terms with Fulham as a 17-year-old after also trialling at Liverpool and he recently went out on loan to Dutch first division side FC Eindhoven where he logged eight appearances.
He travels on a Portuguese passport courtesy of his father and will likely make his starting debut for the Phoenix in Sunday's clash with the Brisbane Roar at Suncorp Stadium.
Gameiro has been with the side for less than a week but as the Phoenix languish in ninth place on the A-League ladder with seven rounds to go, coach Ricki Herbert knows he needs to do something to inject some life in to their floundering campaign.
Phoenix goalkeeper Glen Moss, who has also been given a starting berth for Sunday's game as Herbert has rung the changes, was full of praise for Gameiro after his first few training sessions with the club.
"I'm pretty impressed with Corey,'' Moss said. "He brings a lot of speed and energy and enthusiasm as well and it's probably what we are lacking a bit at the moment. So to have someone like that come straight in with his confidence is a blessing really.''
Moss and Gameiro should also be joined in the starting XI by returning defenders Tony Lochhead, Leo Bertos and Ben Sigmund who all missed the club's most recent outing when they were hammered 5-0 eight days ago (thurs, feb 7) by the Central Coast Mariners through injury or suspension.
Wellington will be without leading-scorer Jeremy Brockie for Sunday's outing due to one-match suspension but Gameiro seems ready to fill the gap and said he was happy with the style of play that Herbert had imparted on the side during his first week with the club.
"We want to try and play football. We don't want to try and kick it long, there's seven weeks left and at the moment they've been in a bit of a long-ball situation. If it's at the back we want to try and play out. We've got good footballers here so I want to play football, I don't want to be having a sore neck with the ball going up and over my head.''
Gameiro is a free agent after this season, having not re-signed with Fulham but will go to the under-20 World Cup in Turkey, when his commitments with the Phoenix end, in search of putting his name out there.
- APNZ