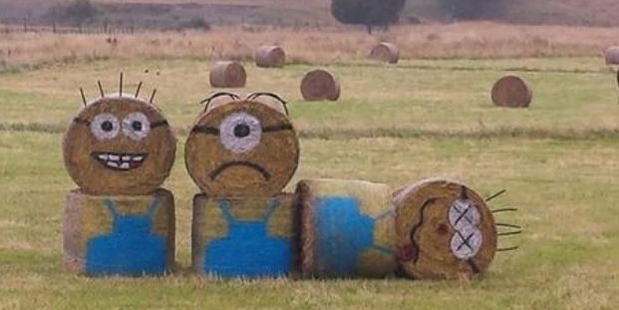 Fool's errand has a romantic ending
On April 1, 2004, Susie wrote in to Sideswipe looking for an April Fool. "I am just about to hit 45 (blonde, slim, intelligent, non-smoker, rather attractive, according to the last boyfriend, and extremely humble and funny)," she said. "I have lived with only two (extremely handsome) men in my life. They were both born on April 1, but 13 years apart. Let's just say things didn't work out, twice," she wrote. "Going on the third-time-lucky principle, my daughter says I must try again and hunt out another April Fool. Any takers?" Well, Susie had about 100 calls that day. Steve rather cockily replied a day later and a decade on, Susie and her suitor are tying the knot. "Thank you, Sideswipe - we both count ourselves incredibly lucky to have found each other!"
Of course, a Beyonce-themed dinner for Valentine's
The idea may make some of us retch, but an Italian restaurant in Brooklyn is fully booked for its Beyonce-themed Valentine's Day evening. Dishes include the Jay-Ziti ($19), I Am Pasta Fierce ($24), and Breastiny's Child ($29).
The calamari dish is, of course, Put a Ring On It.
It's secret, but it's basic
For years researchers have been trying to crack a Viking rune alphabet known as Jotunvillur, a perplexing code dating back to the 11th or 12th century that's been found in some 80 inscriptions. Now a University of Oslo scientist has cracked the code on a recently found 900-year-old piece of wood. It reads, "Kiss me." (Source: ThisIsColossal.com)
Serious sharing
A Pew Research Centre study on Couples, the Internet and Social Media found 27 per cent of US couples share an email address. Seriously? Perhaps they're retired couples who have shared an email address since technology began. (Source: Death & Taxes)
Local: When rugby players didn't have to get in their gruts to plug their sport, this 1997 ad featured Super 12 stars as comets in space ...
Video: Watch Ferrari's F1 pit crew do a pit stop in a bit over two seconds...
Picture this: British illustrator Jon Burgerman who is living in New York has created a series of digitally altered photos titled "Head Shots," which show him being murdered by various movie and TV posters, saying something about the pervasiveness of violence in the entertainment industry...
Video: Schapelle Corby's Facebook Lookback...
Got a Sideswipe? Send your pictures, links and anecdotes to Ana at ana.samways@nzherald.co.nz