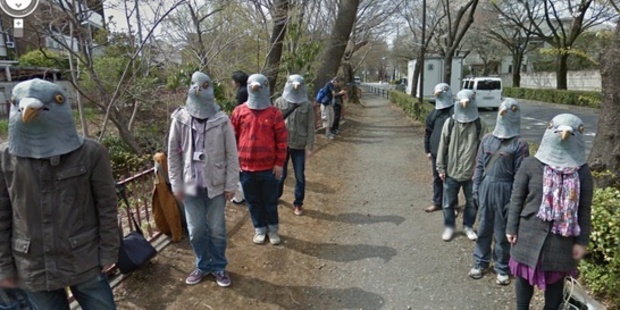 Two legs good, three legs bad
"I was struck dumb with amazement when taking a night-time photo of the city from the Birkenhead ferry terminal to be told by the security officer that I could not use a tripod to take a photo from Auckland Transport property," explains Peter. "I was quite at liberty to take the picture with a hand-held camera, but no tripods. The only other place I have encountered this rule is within the hallowed precincts of the Vatican!"
Carjacker's very senior moment
A 64-year-old man in Geelong, Australia, was arrested soon after his carjacking victim called police. He couldn't make a fast getaway because it took him too much time to load his walker into the stolen car. Police allege the man from Queensland had bought a knife from the shopping centre's Kmart store and approached a 22-year-old woman as she prepared to drive out of the carpark.
Parking warden goes beyond call of duty
A peeved parker writes: "As Auckland and the rest of the nation was lashed by plummeting temperatures, hail and lightning storms last Thursday night, everyone in its path hunkered down for the night to see through the worst of it. Everyone except one traffic warden, who was pounding the quiet, empty streets of Eden Tce issuing tickets, including one to me. Time of issue: 11.46pm. I'm more bemused than annoyed, the extent of this officer going beyond the call of duty borders on obsessive. Or is such 'diligence' rewarded somehow in ways we don't know?"
'Homeless' man really needs help
Update: Our information from Insite Security, a Warkworth-based security and investigation company, is that the "homeless" man in Omaha Beach has a home, but is possibly suffering from some mental illness. It is alleged he has been aggressive and the blanket-type trespass notice instigated by residents was a way to get some action from police and get him the help he needs.
Sympathy for the less fortunate
A reader comments: "I am ashamed to say that in the past I would have probably had an unsympathetic view towards the Omaha man. However, as I have gotten older I have come to understand that not everyone is capable of clawing their way out of the crappy situation. Nothing is ever simple in these matters but rather they are the culmination of a series of bad decisions and usually a raw hand that has been dealt to the individual."
Good read: Is obesity really a disease? A good argument on why it's not...
Video #1: Famous rom-com clips with timely explosions added for comic effect (surprisingly hilarious, trust me!)

Video #2: Paula Ryan tells us how to look good in photos...It's all about clenching and sparkling apparently.

Video #3: Aaron Gilmore the Musical is pretty darn entertaining...

* Got a Sideswipe? Send your pictures, links and anecdotes to Ana here.