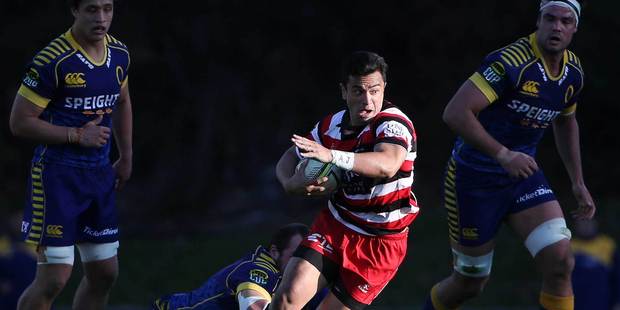 Counties Manukau 29
Otago 25
ITM Cup rugby might be slower than test matches but the intensity's never lacking when the Ranfurly Shield's on the line.
Again, Counties-Manukau under the mentoring of Tana Umaga, brought pride back to the union with their sixth defence of the coveted trophy.
Is it too early for fans to boast of an era?
Regardless, the decks surrounding ECO Light stadium will get another chance to drape their flags this Saturday against Hawke's Bay.
Otago were stoic, showing the necessary intent to take the early lead but couldn't return south with the Log O' Wood for the second time in as many seasons.
The match degraded in the second half. Errors crept in and structure was lost with the onset of tiredness and twilight.
Yet Otago stayed in the contest. Their ominous rumble towards the hosts' line in the final movement left the Shield vulnerable.
For Counties, the heroes were the forward pack rather than their usual suspects in the outside backs. Pick-and-gos bending the Otago defensive line were their specialty and the tactic featured heavily in the build-up to three of their four tries.
It was no coincidence loose forwards Jordan Taufua and Dan Hyatt and pseudo-loosie Ronald Raaymakers made the scoresheet. They were also resilient on defence for the most part, especially close to their own line, repelling several virulent Otago attacks.
Counties' attacking verve was never far from igniting the flair in the backline. Sometimes they were guilty of trying to do too much with possession, or looked tentative as if the weight of a heart-shaped piece of wood perched on the sideline loomed into their collective sub-conscious.
First five-eighths Ahsee Tuala looks capable of mercurial brilliance but fans could be forgiven for clammy palms with the casual way he chose options on occasion.
He also employed the mysterious tactic of booting across field looking for Toni Pulu on the left wing. The risk factor saw the ball fall into opposition hands and invite counter-attacks.
He set his potent outside backs free on occasion and the sight of Bundee Aki, Rey LeeLo, Sherwin Stowers, Pulu and Frank Halai with room to move is one purists can relate to, regardless of provincial allegiance.
Tuala's opposite Hayden Parker directed his charges into space well, particularly when running from depth. The slip of a pass to Aki Seiuli proved a masterstroke when the loosehead prop steamed under the posts and created a duel until Michael Stanley's final penalty set the holders more than seven points clear.
Counties-Manukau 26 (D. Hyatt, R. Raaymakers, J. Taufua, M. Stanley tries; A. Tuala 3 cons) Otago 20 (L. Coltman, A. Seiuli, F. Fuatai tries; H. Parker 2 cons, 2 pens) Halftime: 14-10.