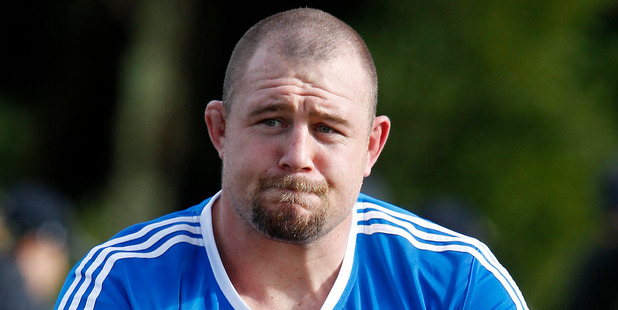 Shoulder surgery is looking increasingly likely for All Blacks prop Tony Woodcock.
Even if he doesn't go under the knife, Woodcock, who was an interested spectator rather than a participant at All Blacks training at North Harbour Stadium this morning, will definitely miss the first two Bledisloe Cup tests, the first of which is in Sydney in a fortnight.
"His shoulder is pretty loose," coach Steve Hansen said. "We'll just see what happens over the next seven days and make a decision from there. There's no point in mucking around if he's not going to be right, he might as well get operated on and he'll get his first pre-season of some note for 12 years so there's some positives there."
Hansen said surgery would probably be required, which would open the door for Crusaders loosehead Wyatt Crockett and his younger teammate Joe Moody. Ben Franks also has the ability to play both sides of the scrum.
Woodcock has a gradual deterioration of the joint which was aggravated in the Blues' penultimate game of the season.
An operation would rule Woodcock out for five months which would mean he wouldn't travel with the All Blacks for their November tests in Chicago, England, Scotland and Wales.
"Whenever you get something that's disappointing... you've got to look for the positives and the positives are that he will have six or seven months before he has to play again.
When you've been on the circuit as long as he has, that's valuable time. It will freshen him up and we'll get a revitalised Tony Woodcock. The last test he played was pretty special so if we can get something like that again it would be great.
Hansen said of his back-up props, who include another Crusader, Tim Perry: "We've got a reasonable good stable of them, it's just a matter of when they get the opportunity and how they grow over the next couple of years.
Hansen, who called the performance of the Crusaders in their semifinal victory over the Sharks as "special" and one of their best of the past two years, said he was confident New Zealand's playing resources could cope with a concerted tilt at a sevens gold medal in Rio in 2016.
"No one is panicking, everyone is on the same page. It's a massive opportunity, the Olympics, as is test rugby, so I'm sure the NZRU will do what's right and Titch [coach Gordon Tietjens] will have a really good side and the All Blacks will have a really good side.
"The New Zealand public will expect us to win gold in Rio and expect us to win test matches from the All Blacks point over view so they have to co-exist."
- APNZ