Much decorated hooker Keven Mealamu shows his steel on the paddock and his gentleness off it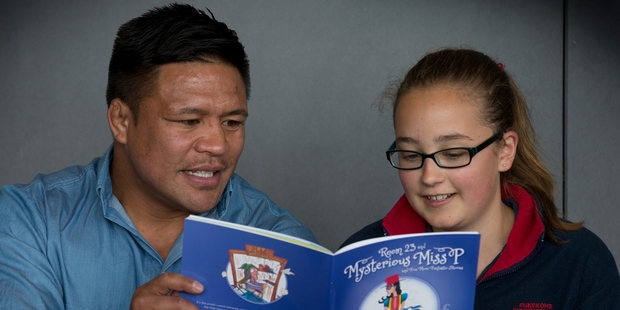 An enduring question has followed Keven Mealamu's decorated rugby career.
How can such a mild-mannered religious man who dotes on his family, works for charities and illustrates children's books, go about his day job in the ferocious front row contests in rugby.
When you ask Mealamu to reconcile the apparent contradiction he delivers his ready smile, shrug of the shoulders and the "it's just what I do" sort of explanation he has taken throughout his remarkable career.
The smile is a significant ruse. It indicates the considerate side of Mealamu's nature and the bloke who is just one of the clan, no more no less when he gathers for extended family functions.
Digging for any dirt on Mealamu is wasted effort, the man may have filled a teammate's pockets with broken eggshells or added shoulder pads to a backs jersey but that might be it.
He is a team man, a family man, a caring gentle man. He likes to party, he has a great sense of mischief but has boundaries just as he does on the rugby field.
Anyone who mistakes that for softness on the park makes a massive lapse.
Mealamu may not instigate a quarrel but he knows how to deal with one.
His endurance in the game is built on a mental core which dispenses with any reverse gear. For Mealamu, rugby is a contest of unremitting will from the time he faces up to the first lineout throw, sets a scrum on his goal line, eyes a cleanout or fastens on to a loose possession.
Every metre on the park is a zone in which to impress, every fibre in his compact frame concentrates on making progress in his physical and mental tasks which supplement the team culture.
Watch: All Blacks profiles: Keven Mealamu

Last night in his favourite Eden Park arena, Mealamu equalled Nathan Sharpe's record of 162 Super rugby games which, combined with his 113 All Black caps and first-class games for Auckland, Barbarians and composite sides, left him needing 10 more games to topple Colin Meads' record 361 first-class matches.
The glow from Mealamu's extended clan last night would have powered the relief grid in Northland and deep inside, Mealamu would also have been warmed by their attendance.
His Super rugby career began for the Blues in 2000 when coach Gordon Hunter used him from the bench against the Brumbies in Canberra. Anyone knowing without reference to Google or an Almanack that Davin Heaps was the Blues starting hooker that night, has a future as a statistician.
After two seasons with the Blues, Mealamu's future was uncertain when he was picked up on the 2002 draft by the Chiefs but a stellar season for them then Auckland, brought him an All Black call up and test debut against Wales on the end of year tour.
When he was at Aorere College, Mealamu was a flanker who played age-group rugby for New Zealand and while he was sharp and tough, his frame was not going to cut it in a No 7 jersey at international level. The change came and ever since Mealamu has expanded his repertoire and jersey size in the No 2 uniform.
Like Oliver Twist, once he made a test start Mealamu wanted more.
"It clicked that I love this enough to do it for a long time and I wanted to be damned good at it," he told the Herald when he reached his test century.
Like others he reveres - Michael Jones and Richie McCaw - Mealamu practices with an intensity which matches his play. Some would class it as obsession and Mealamu will accept any description which acknowledges the dedicated passion he delivers to his work and life. His immediate support crew of wife Latai, son Samuel and daughter Maia underpin that commitment and with each year of unremitting excellence, you wonder whether the 35-year-old Mealamu will match the longevity of another devout iron man, Brad Thorn.
"I just love it, he says, "you pick up so many things and now I understand how to do most things or rectify problems.
"The more you train the more belief you have. What I get to do is pretty special. I get to do rugby where other people have to get up early and go to work and come back late in the evening.
"Rugby is just so enjoyable - and it looks after my family and me. I love it."