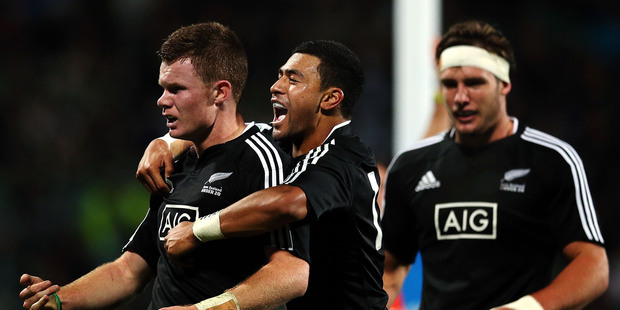 It will get better and there will be much tighter games ahead.
That may sound like wishful thinking after five of the opening six games of this Junior World Championship ended in blowouts or decisive wins. Sound like a senior Rugby World Cup, anyone?
Those "decisive wins" included New Zealand's 48-12 win over Samoa, a scoreline that looks clear-cut but was closer than most who did not see the game would ever realise.
Given the tournament was not heavily promoted until the last week or so, and the eternal truism that Aucklanders leave the region in droves on long weekends, expectations for day one crowd numbers were set at ground level.
One former All Black commented that he would have brought his family along had he known the ticket prices would be so cheap. They might even get the chance to press the flesh with Jonah Lomu, the tournament ambassador.
But Albany one hour before South Africa "hosted" Scotland had less atmosphere than a morgue. Happily it did slowly build, as did play by the Baby Boks, or the Junior Boks, or the South African Under 20s, call them what you will.
The atmosphere was sharpened by the 7.35pm kickoff in the main game where New Zealand and Samoa gave simultaneous challenges which warmed the crowd of around 5000, roughly twice that of a regulation North Harbour ITM Cup fixture.
The script looked like it was going to read, "New Zealand took a considerable period subduing the Samoan forwards before their classy backs ran riot".
No one told the Samoan boys, though, many of whom know the Kiwi lads well, and it needed three late tries to give an unfairly lopsided look to the scoreboard.
There was little in the way of clinical or mistake-free rugby, at least in the Albany games. France-Ireland was a perfect example of fierce endeavour unmatched by class and precision. But remember, these are not test matches, and these are not mature pros.
One colleague commented quite publicly on the size of some of the forwards going around, in particular the size of their, ahem, widening cabooses.
Not sure what he was getting at, but it may have accounted for a lack of skill and athleticism in a handful of teams on show.
There were also far too many knock-ons and unforced errors. We'll give them the benefit and put this down to nerves.
But there will be no excuses on Friday, day two, which throws up tasty collisions featuring England v Australia and New Zealand v South Africa.
A loss for the home side could leave the unthinkable prospect of New Zealand playing for the minor placings.