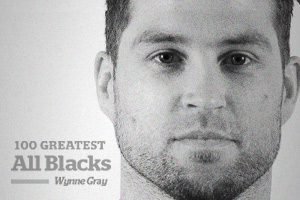 The 1080 pest control doubles as the All Black number for Cory Jane.
There is a wry connection there as Jane has become more of a nuisance to his opponents and his teammates since he danced into the All Blacks in 2008.
During the 2011 World Cup, coach Graham Henry had to ban Jane and his teammates from using Twitter because he felt it was threatening their concentration. As galling as that order was to Jane, he complied.
But he did it tough. He is an irrepressible character whose fuel is the attention and discussions he has with fans and supporters on social media. Jane is a talent in waiting with his timing and delivery well suited for some sort of television work.
His sporting temperament is strong as he showed with his 2011 response to the sort of adversity he faced when he ill-advisedly, went out socializing during the tournament.
A slight man in today's rugby world of behemoth wings, Jane makes up for that with courage, timing, speed and the anticipation which elevates players above the satisfactory mark.
He has stood up many defenders with his agility and pace while his array of attacking kicks can outwit defenders who are not concentrating fully.
Away from rugby, Jane is fascinated by all the trappings of the NFL and kept busy as a father of four.
Statistics
Date of birth: 8 February 1983
Position: Right wing
Matches: 47
Tests: 45
Test debut: 1 November 2008 v Australia, Hong Kong
Provinces: Hawkes Bay, Wellington
Franchise: Hurricanes
Test tries: 16
Test points: 80