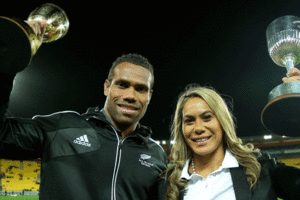 New Zealand Rugby has made a big push for double gold at the Rio Olympics, with sevens the financial winner in the new collective employment agreement.
The agreement, signed by New Zealand Rugby and the New Zealand Rugby Players Association, governs professional rugby from 2013 to 2015 and includes a big windfall for the abbreviated version of the game.
With sevens now included in the Olympics, both parties have reflected the obvious opportunity for two gold medals, with both the men's and women's sides winning this year's world championships.
The new agreement includes a significant increase in the amount of money in the player payment pool to be allocated to the All Blacks Sevens' retainer.
The previous payment fund of $1.6 million has more than doubled to $3.5m, providing the opportunity for a core group of players to specialise in, or prioritise, sevens ahead of the Rio Games in 2016.
And the men's side are not the only benefactors, with a women's contracting model featuring in the player payment pool for the first time, underlining the growth of the women's sevens game.
The model will see at least 16 players contracted on retainers and receiving tournament fees when selected, with $1.9m set aside from the payment pool.
- APNZ