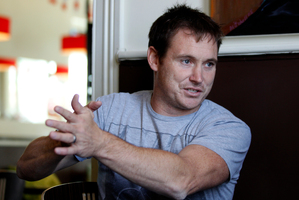 Former Wallaby George Gregan has taken rugby great Andrew Mehrtens into his home after the former All Black's rental property caught fire in Sydney last night, according to reports in Australia.
A Fire and Rescue NSW spokeswoman said emergency services received a call at 7pm local time yesterday to the property in Double Bay.
She could not confirm it was Mehrtens' house, but local newspaper the Wentworth Courier said the property was rented by Andrew Mehrtens and his family.
Crews arrived within 10 minutes and found the two-level brick and tile building well alight.
The fire had spread from the chimney and firefighters had to rip up floorboards to ensure it had not spread underneath.
The house was smoke-logged but not badly damaged.
One of his children reportedly alerted the babysitter on finding a bedroom was full of smoke and everyone evacuated the apartment, the Brisbane Times reported.
Safely outside, Mehrtens was joined by Gregan as they watched fire crews bring the blaze under control.
Gregan then offered his home to his old rugby adversary until his family found somewhere else to live, said the Brisbane Times.
Mehrtens was reportedly grateful for the offer, and relieved that everyone escaped unharmed.
The All Black great recently relocated to Sydney with his wife and children after finishing his rugby career in France.
- APNZ