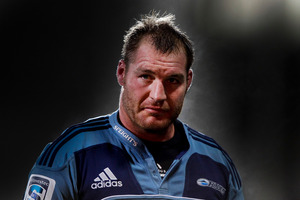 It's useful having a players manual as you survey Blues training.
Half the group are new to Super rugby or the Blues and have not been in focus since the ITM Cup finished.
New skipper Ali Williams has a clump of men who battled through last season and others who were on the periphery of that inglorious results chart but the impression is of widespread regeneration.
All of them are getting a shot at making the opening game of the season as new coach John Kirwan and his staff rotate and inspect more of the squad for Saturday's trial game against the Waratahs in Whangarei.
"They are playing to be selected as we have heaps of new guys," Kirwan said.
"There is a lot of pressure on positions so our goal is to be facing the Hurricanes and having a hard selection choice. Guys stepped up last weekend and it is other guys' turn this weekend."
Kirwan was enthused by the response from many of the new players in their opening hit-out against the Reds last weekend in Toowoomba.
There was still a great deal of work to be done to get the group ready for their competition start on February 23 against the Hurricanes in Wellington. But they had shown the right sort of expression against the Reds and delivered many of the ideas Kirwan and his staff wanted.
That emphasis would continue for the Blues this weekend, he said. Trial matches were all about working on their plans and strategies instead of countering the Waratahs.
Those ideas had been at the core of the team's planning and fitness work as they readied themselves for the type of rugby they want to produce in this year's competition.
"So last weekend was making sure we got our lineout, scrums, attack and defence right," said Kirwan.
This next game against the Waratahs was about developing more of those patterns and the combinations they wanted.
"That is our focus for the pre-season so that when the Hurricanes come round, everyone has clarity about what we want to do," said Kirwan.
Selection was not always straightforward. Some players trained better than they played or vice versa, recent hot weather affected some more than others.
A number of new players had responded strongly when they were put under the pump by the more experienced Reds.
Williams is likely to get his first trial run this weekend after returning early to training following the All Black tour.
Rene Ranger will get time on his home track in Whangarei, prop Charlie Faumuina will have a turn and Piri Weepu is likely to have his first foray in the final practice game against the Highlanders.

Play Virtual & Fantasy Super Rugby
Test your tipping skills with Virtual or create your dream team with Fantasy Super Rugby and be in to win a slice of $7,000 in prizes.
Be part of the game and sign up now.