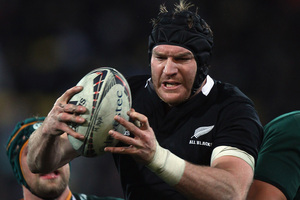 Whatever headaches the Blues are causing Pat Lam, they will be dwarfed by the problems the franchise has presented All Blacks coach Steve Hansen.
Determined to step out of the shadow of Graham Henry and begin his reign with three solid wins against the Irish in June, Hansen faces a dilemma, with a handful of senior All Blacks sinking fast with the Blues.
As much as he wants to make a statement of intent in June, stamp his mark on the team with a couple of new faces, he'd always have been relying on old hands to provide the composure, experience and certainty required in tests. On that list will be Keven Mealamu, Tony Woodcock, Ali Williams, Piri Weepu and Ma'a Nonu. Jerome Kaino, Isaia Toeava and Anthony Boric would have been a firm part of Hansen's plans until injury ruled them out.
Now he'll be in a quandary. Last year, the All Black panel successfully backed themselves to mend a handful of shattered Hurricanes. Andrew Hore, Cory Jane and Nonu all reached the end of Super Rugby with little form after the Hurricanes endured a terrible season marred by a player-coach rift.
The former two in particular were low on confidence and barely shadows of their true selves. Nonu had been improving in May and June but was not at his destructive best. Maybe if it hadn't been World Cup year, Hore and Jane would have been sent to the ITM Cup to rebuild their confidence.
That didn't appeal to Henry, who felt the only option was to select this stuttering crew and somehow boost their confidence and gently coax them back to their best. It was a stunning piece of coaching - the result of the All Black coaching trio operating at the peak of their craft; using every piece of intelligence gathered during their eight years at the helm to achieve a result few thought possible.
Jane was probably the best player on the park in New Zealand's quarter-final and semifinal, while Nonu went from being sacked by the Hurricanes to the IRB Player of the Year shortlist.
Having been part of a team that achieved the impossible last year, Hansen will fancy he might be able to do it again.
The best coaches find it hard to resist the biggest challenges: the notion of magically transforming seeming duds is a hard one to resist.
But Hansen will have to question whether he'd be selecting the likes of Mealamu, Williams, Weepu and Nonu just to satisfy his ego. There is time yet for things to change but on present form, it would be hard to justify including either Williams or Weepu.
The big lock has had slumps in the past but he'd appear to be in more of a rut than a slump at the moment. Sometimes it happens - a player can't find his rhythm or flow, no matter how hard he tries or how much he wants it. Williams has the look of a man who'd benefit from being omitted from the June tests and left to find his form away from the public glare. His own expectations could be hampering his progress.
Weepu has fallen victim to his genetics before and the All Blacks have backed him. But Andy Ellis and Aaron Smith are playing well and Weepu really hasn't offered anything. The onus surely has to go back on Weepu to get himself fit and prove his hunger (metaphorical, not literal), rather than the All Blacks acting as a kind of rehabilitation centre.
Hansen will no doubt consult Lam to garner the Blues coach's thoughts on the mental state of these players. But that might not be particularly enlightening.
"Only the players can answer that [whether they are still mentally driven]," says Lam. "I know that when I was a player, people would say I was playing well but I knew I was really struggling.
"It took eight years for some of the players to win the World Cup and with different psyches, they will all have different motivations."
The picture is complicated further with Mealamu. He turned 33 last month and Hansen will have to decide whether the fearsome hooker has hit the wall; age gets everyone in the end. Just as conceivably, Mealamu may be suffering from his lack of conditioning caused by off-season surgery and by having his confidence knocked as captain of the country's worst performing franchise.
Nonu is an equally difficult beast to gauge. He can spark to life in a flash but he's also been playing rugby without a break since February last year. Maybe he needs some time off - or maybe he needs to be sparked into life by playing in a black jersey.
The picture is murky and the challenges for Hansen are major. He'll be thankful for the not so small mercy that is Woodcock - the one senior All Black at the Blues pulling his considerable weight.