What you need to know as Rotorua braces for cyclone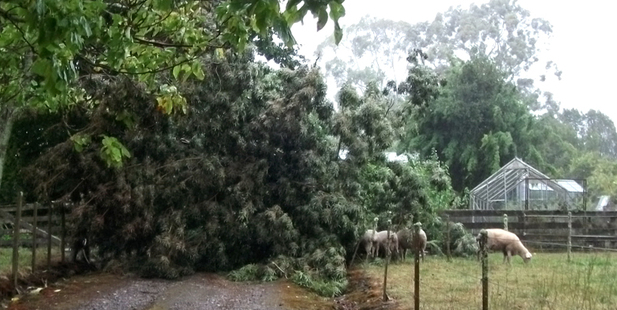 Power is expected to be completely restored to about 100 households by late this afternoon.
During the storm ex Cyclone Lusi power was cut to homes across the Rotorua district.
Unison customer-relations manager Danny Gough said there were many pockets that had suffered power cuts, predominantly in rural areas, and they had usually been able to restore power within two hours.
At the moment power is out in the Reporoa area and Dalbeth Rd, Ngongotaha Valley. There are 30 Unison staff working on restoring power.
"We're happy with how the network has performed," Mr Gough said.
"We had plenty of warning and we've got all staff available. We are aware outages have an impact and we appreciate people being patient. Our first priority is our staff and the public's safety. We don't want to put our staff into postions where they could be compromised."
He said power cuts were due to wind related damage to power lines.
There had also been power cuts to properties at Lake Rotoma, Lake Rotoiti, Lake Okataina and in the Hamurana area.
The Rotorua Fire Brigade's Green Watch was at the scene of downed power lines on Ngongotaha Rd near Mitai in the early hours today as the predicted storm formerly known as Tropical Cyclone Lusi finally hit the city.
Severe weather warnings have been lifted for the Bay of Plenty, but this morning high winds and driving rain arrived, following a day yesterday of light rain and overcast weather. The storm was downgraded from a cyclone yesterday.
Metservice recorded 50km/h northeasterlies at 4am.
For the Bay of Plenty west of Kawerau Metservice said last night expect in the 12 hours to 8am Sunday a further 50-60mm of rain to accumulate. Peak intensities of 10-15mm per hour.
For the ranges of Gisborne and eastern Bay, In the 16 hours to noon Sunday, expect 80 to 100mm of rain to accumulate.
Police said there were lots of reports of trees down across the roads due to strong winds right across the Bay of Plenty. Military Road Kawerau was closed early today between SH30 and the intersection of SH34 and Otakiri Rd. Work was under way to clear the roads. There were further reports of trees down on the hills between Lake Rotoma and Kawerau and on Wainui Road between Ohope and Ohiwa Harbour.
Several readers woken by the storm posted this morning on the Rotorua Daily Post Facebook page.
One reader posted about 7am that their power was out in Koutu.
The Rotorua District Council has warned locals and visitors to stay away from The Redwoods and Whakarewarewa Forest this weekend because of forecast stormy weather.
Rotorua District Council Forest & Redwoods Visitor Centre Manager Julianne Wilkinson said that because of wind and rain expected from Tropical Cyclone Lusi, walking tracks and mountain bike trails probably wouldn't be very pleasant places to be on Saturday and Sunday.
She said there were safety risks with the possibility of trees or branches falling, so as a precaution it was generally recommended to stay away from forest areas until weather conditions improve.
Tropical Cyclone Lusi is already playing havoc with weekend events.
The approaching cyclone forced organisers of Saturday's Tarawera Ultramarathon to make the last minute "tough decision" to shorten the event from 100km to either a 55km or 65km distance.
Race director Paul Charteris posted the news on the event's Facebook page on Friday, saying in the end it was a critical safety decision made to protect runners.
The finish line was at Boyes Beach, Lake Okareka, instead of Kawerau.
Follow race progress at the bottom of this linked story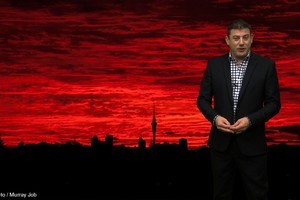 Emergency services warning residents not to be lulled into a false sense of security if the weather was still fine - it didn't necessarily mean the city had escaped.
The forecast for the Bay of Plenty west of Kawerau was heavy rain setting in today. In the 24 hours from 8am today to 8am Sunday, expect 100 to 120mm of rain to accumulate, but 150-200mm about the Coromandel and Kaimai Ranges. Peak intensities of 20-30mm per hour this afternoon.
For the Eastern Bay of Plenty and Gisborne heavy rain was forecast to set in Saturday afternoon. In the 24 hours to noon Sunday, expect 100 to 150mm of rain to accumulate. Peak intensities of 15-25mm per hr Saturday afternoon and evening.
Bay of Plenty police Inspector Scott Fraser has urged residents and visitors to keep up to date with MetService reports and Civil Defence advice so they can prepare for the tropical cyclone.
You can track Cyclone Lusi in real time here
As the Rotorua Daily Post went to press Mr Fraser, the Bay of Plenty police prevention manager, said the exact path and strength of the storm was still not clear and more details would become available in time.
The Bay of Plenty and Waikato regions continued to feature in the Severe Weather Watch last night and residents were being told to prepare for heavy rain and strong possibly damaging winds, with eastern coastlines particularly vulnerable and storm surges and heavy sea swells expected.
"We don't want people to panic; we just want to make sure everyone stays informed and takes a few simple precautions to keep themselves safe as the storm passes through," Mr Fraser said.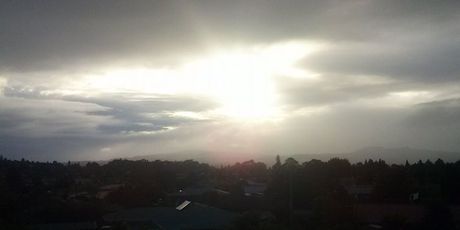 "One of our main concerns is the road network. We've been having some really dry, fine weather and a sudden deluge of heavy rain is likely to make conditions very slippery as well as reducing visibility. Coupled with severe winds, driving could become quite hazardous. Our advice is to ask yourself whether your travel plans are essential and if they aren't, consider reviewing them.
"Our priority is public safety and doing what we can to prevent anyone being injured or even killed, in situations that could be prevented. We have the benefit of advance warning, so it is important that we all take advantage of that."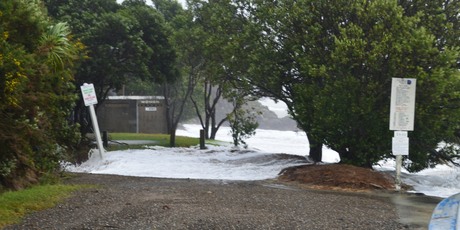 North Island readers' pics as Lusi hits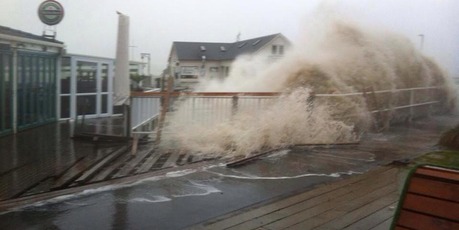 More than 2000 people in rural areas north and south of Auckland have had their power cut from vegetation on lines, electricity company Vector said.
The company said it would work hard to restore power as quickly as possible.
"The safety of the public and Vector's contracting field staff is of primary importance."
People using medical equipment that relied on electricity should always ensure they were prepared for power disruptions and if there was an immediate health threat, contact their health provider or call 111, Vector said.

Outdoor enthusiasts are particularly being urged to keep a close eye on predicted conditions and make sensible decisions, particularly boaties, trampers, campers and hunters.
"There is a possibility you could wake up in the morning to fine weather and wonder what the fuss is all about. Don't let this lull you into a false sense of security, as it is not clear at what point we will start to see the effects or how much impact it will have on us. Check the forecasts and don't do anything that might put your safety, or the safety or search and rescue personnel, at risk."
Meanwhile, Swim Rotorua and the Rotary Club of Rotorua have postponed the Lake Okataina Open Water Swim planned for today due to the severe weather forecast over the weekend.
Those wanting to take part on March 29 should contact Bronwen Radford at Radford@wave.co.nz or 0276 688 966.
A shortened version of the Cancer Society's Relay for Life at the Rotorua International Stadium was still on yesterday, said event co-ordinator Alia Ryan.
Meanwhile, electricity companies have warned customers to be prepared for the possibility of outages as a result of the wild weather.
Useful advice, updates and information on Cyclone Lusi can be found at www.metservice.com, www.civildefence.govt.nz and www.getthru.govt.nz. Bay of Plenty Police is updating via its Facebook page www.facebook.com/BOPPolice and Twitter feed @BOPPolice.

Send your weather-related photos to news@dailypost.co.nz.