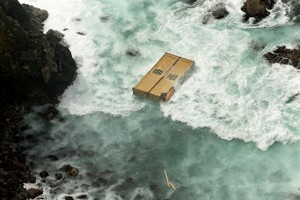 Boaties in the Bay of Plenty area need to beware of about 40 containers still missing, warns Maritime New Zealand (MNZ).
MNZ National On Scene Commander Alex van Wijngaarden urged boaters to take care when they head out on the water.
Cargo ship Rena lost 88 containers when it ran aground the Astrolabe reef on October 5, and spilled hundreds of tonnes of oil into the ocean.
Captain van Wijngaarden said boaties need to heed navigation hazard warnings, because there are still about 40 containers unaccounted for.
"We know some or many of them will have sunk, but some may be floating or partially submerged and these obviously represent a significant hazard to all vessels, but particularly relatively small pleasure craft."
He said people needed to heed public health warnings, even if they couldn't see oil, and fishing and shellfish remained banned.
Salvors continue to pump oil off the stricken vessel today, and have been making steady process despite pumping at different rates, said MNZ salvage unit manager Bruce Anderson.
As of yesterday afternoon, 171 tonnes had been transferred from the largest (772) tonne tank to the tanker Awanuia.
There have been no significant leaks of fresh oil from Rena for 11 days, which means that most of the oil coming ashore is remobilised oil - oil that has come in, washed out and then come ashore again with the tide.
Clean-up teams continued to shovel away oil at five main points along 30km of coastline, with the remotest at Waihau Bay, about 200km from Tauranga.
Operation Beach Clean volunteers Manager Pim de Monchy said volunteers had a determined attitude.
"Initially there was frustration - and of course anger that this happened. Two weeks on there's still plenty of 'how and why' but also a reluctant acceptance and, most significantly, a determination to fix it."
"We're limited at present, because there's no point going too far below the sand surface, given the possibility of significant further contamination."
He said trained volunteers work in a designated area with a group leader, usually for about four hours.
Mr de Monchy said people should not be disappointed if they are not immediately called into action.
Mount Maunganui beach from the base track through to Tay Street was open but Capt van Wijngaarden urged caution.
"While the beach has been cleaned and re-cleaned, there is still residual oil in the environment and the water. Please use caution and follow advice from public health authorities," he said.
The sea remains closed.
- APNZ
- APNZ