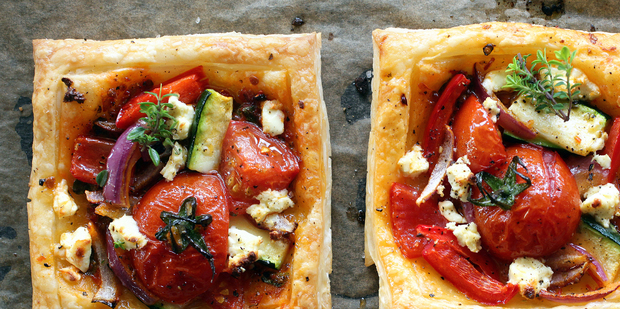 The book shows the recipe as one large tart but I made individual ones. I also spiced them up a bit by adding a little chilli paste to the base layer. Follow the recipe below and add your own touches.
Serves 4
2 sheets (about 300g) pre-rolled flaky pastry, thawed
2 tbsp tomato paste
1 tsp dried basil or 1 tbsp pesto
1 tbsp water
1/2 tsp dried marjoram
1/2 tsp salt
grind of freshly ground black pepper
250g small ripe tomatoes
1 small red onion
1/2 medium yellow or red capsicum, deseeded
1 medium zucchini
1-2 cloves garlic, crushed, peeled and chopped (optional)
about 8 basil leaves, roughly shredded
2 tbsp olive oil
100g feta cheese, crumbled
salt and freshly ground black pepper, to taste
Preheat the oven to 200ºC.
1 Lay the first sheet of pastry on a lightly oiled or non-stick sprayed baking sheet.
Brush the surface lightly with water, then lay the second sheet exactly on top. Roll or press the two sheets lightly together. Without cutting right through the pastry, run a sharp knife around the sheet about 1.5-2cm inside the edge, marking out a smaller square.
2 Mix together the tomato paste, dried basil or pesto, water, marjoram, salt and pepper. Spread this paste evenly over the surface of the smaller square, trying to keep the edge clean. Cut each of the tomatoes and the onion into 6-8 small wedges, and slice the capsicum into strips about 1cm wide. Halve the zucchini lengthwise and cut into thin (5mm) ribbons.
3 Combine the vegetables, garlic (if using) and basil leaves in a plastic bag or bowl. Add the olive oil, and stir gently until the vegetables are well mixed and evenly coated with oil.
4 Arrange the prepared vegetables over the paste-covered base, then sprinkle the tart evenly with crumbled feta. Season with salt and pepper to taste, then bake at 200C for 20-25 minutes, or until the crust is golden brown.
Serve hot, warm or cold with a green salad or as part of a picnic buffet.
Extracted with permission from The Ultimate Vegetarian Collection by Simon and Alison Holst, published by New Holland, RRP $55.