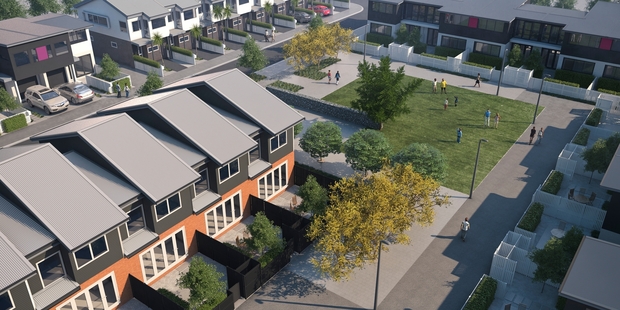 The receivers of a company developing one of New Zealand's biggest, most intensive affordable housing estates say buyers pre-purchase deposits are secure.
Some 420 apartments and townhouses are planned for the Springpark estate on a 10.5ha site in Auckland's Mt Wellington and the first stage of the development is expected to be completed next year.
Springpark is seen as an affordable homes project, with townhouses in stage one priced from $399,000 to $554,000. Most of stage one has already sold.
One of the companies developing Springpark, Panama Road Developments, was put in receivership earlier this month by Crown Finance, said to be owed $2 million.
In a statement this morning, Panama Road receivers Steve Tietjens and Kevin Gillespie said all pre-purchase deposits paid for homes in stage one of the development were secure in a trust account.
Tietjens and Gillespie confirmed they had settled the purchase of land for stage one of the development.
"The receivers have worked to secure funding for the land purchase since their appointment on 30 April 2014. If funding had not been found by the agreed date (Monday 12th May), the vendor could have terminated the Sale Agreement and the site for the development would have been lost.
The receivers have engaged Bayleys Real Estate to manage a tender process to find a developer to complete the Springpark Development," Tietjens and Gillespie said.
Read today's Springpark Estate statement here: