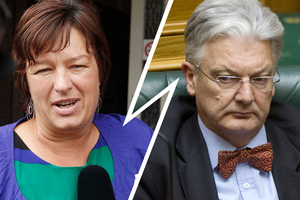 A war of words has broken out between United Future's Peter Dunne and Labour's Sue Moroney over Labour's bill to extend paid parental leave to 26 weeks, which has been scuppered by filibustering with no chance to pass before the election.
The bill, sponsored by Labour MP Sue Moroney, was set down for committee stage last night, but progress lagged as National MPs filibustered on an earlier bill about high-powered laser pointers.
That means Ms Moroney's bill, which has majority support by one vote (National MPs opposing, and independent MP Brendan Horan abstaining), is almost certain to languish on the Order Paper when the House rises for the election campaign on July 31.
"It had to get through the committee stage [last night] to have a chance, but they're filibustering. I'm hugely disappointed," Ms Moroney said.
"It's very disrespectful to families. Peter Dunne could put a stop to the filibuster. All he'd have to do is abstain on closure motions (to conclude the debate), but he is refusing to do that. That means the bill won't get to its vote."
She said she had tried to convince Mr Dunne.
"He was categorical about it, that's his right, but he has to accept responsibility as the person ensuring that the bill won't get its vote. He didn't give me a reason."
Mr Dunne returned fire, calling Ms Moroney's comments "sour grapes".
"The bill would not have got to this stage had it not been for my support - so that's gratitude for you. For Sue Moroney to now turn around and start blaming me for what's really Labour's ineptitude in managing the processes of the House, I think shows them to be utter hypocrites.
"They do this all the time. They solicit my support for members' bills, and when I give it to them, do I get any credit? No. It's their great triumph. And when I don't support them, it's all my fault.
"This sort of hypocrisy doesn't really engender a good working relationship, and I think Moroney's comments are just sour grapes."
He rejected Ms Moroney's claim that his vote was all that stood in the way.
"That's rubbish. I don't actually care whose other votes she has secured (for a closure motion). The idea that my vote is all that is stopping her, when she has had this bill around for two years, is simply fatuous."
He said he still supported the bill, "but I'm not playing procedural games".
The bill was also threatened by financial veto, which the Government can use for a bill which "would have more than a minor impact" on the Government books.
Ms Moroney has proposed changes to reduce the financial impact, including no impact for this financial year, but Finance Minister Bill English still looked likely to veto it, if necessary.
"We believe our package in the Budget is a better package," Mr English said.
"It's better because we are spending money on families that do not qualify for paid parental leave. Our package accommodates all of them with the parental tax credit."
Next story - John Key: I thought about quitting