A Government-funded survey, published today, finds our primary and intermediate schools are in 'mixed health'. Nicholas Jones looks at what's working and what isn't.
In the classroom
Getting in trouble at primary school is now less likely to result in discipline - such as "time out" - the removal of privileges or detention.
Instead, the survey shows, schools are increasingly taking more of a problem-solving approach - using conversations with students to settle disputes or bad behaviour.
Forty-nine per cent of principals indicated their school's overall approach was an even mix of consequences and problem solving, and a further 41 per cent said their focus was mostly on problem solving.
Just 9 per cent of schools focused more on consequences.
Students were also reported as being actively involved in promoting good behaviour, for example through presentations at assemblies.
Bad student behaviour causing disruption was an issue for almost half the teachers, though frequently for only 13 per cent - about the same as in the 2010 survey.
Most teachers had never felt unsafe in their school (85 per cent), and less than 1 per cent had frequently felt unsafe.
Principals and teachers continue to enjoy their work, but reported becoming over-stretched - morale in both groups slipped since 2010, with stress levels increasing.
A third of teachers thought a high workload prevented them from doing justice to their students, and continued to lack the opportunity to observe the teaching of effective colleagues.
Technology
Learning within schools is being transformed through technology - but benefits are threatened at more than half of all schools because of a lack of devices such as iPads.
Information and communication technology (ICT) is a "pre-occupation" for schools, the report concludes, with Government support such as the roll-out of ultra-fast broadband making it more so.
Teachers were enthusiastic about the use of technology in classrooms, with many rating it as one of their main achievements in the past three years.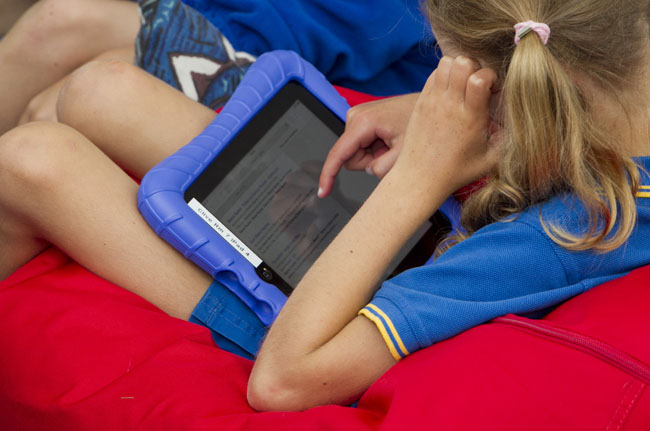 IPads are now more common in schools. Photo / APN
However, 60 per cent said their students' use of ICT was limited by a lack of or poor quality devices or access. Nearly 40 per cent said limitations were linked to their own knowledge and skills with the technology.
A majority were also concerned about new safety issues and were finding their work day extended because of technology.
The school website was being used by 55 per cent of parents to get up-to-date information, and one in 10 was accessing a class blog.
What's being taught
Schools reported tension between trying to teach all areas and subjects of the New Zealand Curriculum and the need to focus on literacy and maths. One-third of principals said the focus on literacy and maths had taken attention away from other aspects of the curriculum.
The Government's controversial national standards describe what students should be able to do in reading, writing and mathematics as they progress through levels 1 to 8, the primary and intermediate years.
The student achievement data is fiercely opposed by education unions. However, the Government argues it provides valuable information to parents and shows where extra resources are needed.
Twenty-two per cent of teachers thought the standards drove what they did in school, although fewer principals felt this way. One teacher commented, "parents want to hear about national standards. National standards have taken over the journey."
Only 17 per cent of principals thought it was easy for their school's parents to understand the national standards, however board of trustees members, and to a lesser extent parents, thought they did.
Funding and resources
School resources remained stretched. Only 29 per cent of principals said their school's teaching staff entitlement was enough, a drop from nearly half in 2010.
The report said this decrease was "perhaps linked to the greater expectations that schools will raise student achievement".
Education Minister Hekia Parata rejected that, and said on average over the past five years schools' operational funding was at or above inflation.
"The drive to improve the quality of learning and therefore achievement isn't actually a new drive, that's why schools operate ... I'm not sure that's a pressure, that's an expectation."
One in 10 principals believed their government operational funding met their school's needs - a number unchanged since the previous survey.
Parents with children at state or state-integrated primary and intermediate schools were paying between $8 to $600 per child in donations.
Parents in richer communities were far more likely to pay - 20 per cent of parents in decile 1-2 schools paid a median donation of $25, compared to a median payment rate of 80 per cent of the $145 asked for at decile 9-10 schools.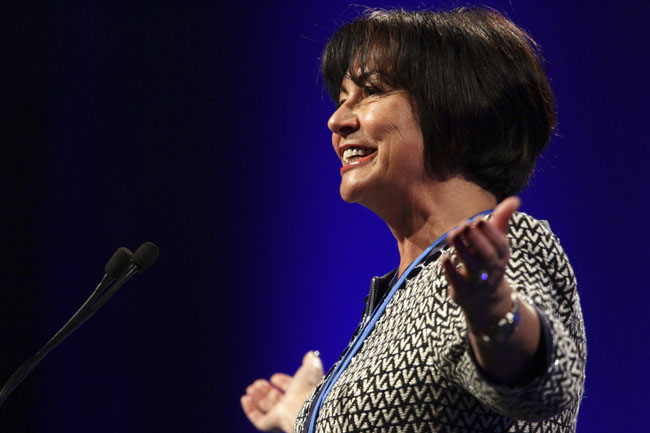 Education Minister Hekia Parata. Photo / APN
Student turnover within a school year is a big concern for schools, with more than half identifying it as a problem - a particularly bad one in poorer areas.
Comments from principals said transient students often had behaviour and learning problems, requiring more resources that could seem wasted if they moved again.
"I have enrolled 105 students this year for a net gain of 24," commented one principal. "This number of students coming and going creates a lot of administration work but significantly is extremely disruptive to both the transient students and the others at school."
The school next door
An aim of the National Government's election-year school leadership package - which puts expert principals and teachers to work across a cluster of schools - is to encourage schools to work together, to spread the best ideas and what is working well.
The survey showed that most schools have some interaction with other schools, and the number who were clustering to pool resources for administration support had more than doubled since 2010.
However, with school funding attached to student numbers, 59 per cent of schools reported direct competition with other schools.
Of those with enrolment zones, 41 per cent took at least a fifth of their students from outside their zone, suggesting that zones "appeared to protect the rolls of some schools while allowing them to take students from other schools' areas".
Sixteen per cent of principals said they were spending more on marketing to encourage enrolment.
Watch: Concerning trends in National Standards
The parent view
Most parents were generally happy with the quality of their child's schooling. Those who wanted changes listed a wide range of desires including smaller class sizes, less bullying at school and more emphasis on certain subjects.
School choice does not appear to be a problem, with only 6 per cent being unable to access their first-choice school.
Ninety-five per cent of decile 1-2 schools could accommodate all new students, compared with 54 per cent of decile 9-10 schools.
Two-thirds of parents chose the school closest to their home. Proximity, personal contacts and knowledge and existing relationships were major influences on school choice, more than measures such as ERO reviews, annual reports or national standards results.
Those serving on a board of trustees were more confident in their responsibilities, perhaps reflecting increased Government investment to support boards.
Read more: Classroom harder than boardroom
The survey
The New Zealand Council for Education Research, an independent educational research organisation, is funded by the Government to carry out a national survey of primary and intermediate schools every three years.
The survey was undertaken in July and August 2013 using a representative sample of around 20 per cent of all schools, and a representative sample of teachers and parents. The survey gathered data from 180 principals, 713 teachers, 277 trustees and 684 parents.
To read the full survey click here.