Minister calls in experts after National Standards data shows a decline in Years 5-8.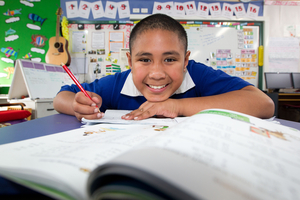 The achievement rate of primary and intermediate school children declines as their year level increases, particularly in mathematics, according to National Standards data.
Education Minister Hekia Parata said the trend was a concern and she has directed an advisory group to make recommendations on how to address it.
However, educators have warned against reading too much into the results, saying the year-level data may not reveal anything other than problems with the National Standards themselves.
For the first time, yesterday's release of overall National Standards data included rates of achievement by year level, which suggested achievement is higher in Years 1-4 than it is in Years 5-8.
The steepest rate of reported decline is in mathematics achievement. Last year, 85 per cent of students nationally achieved at above the National Standard in Year 1, but that dropped to 66 per cent in Year 8.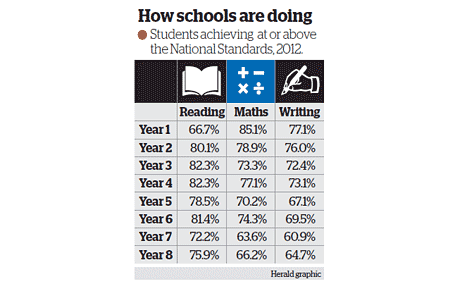 Yesterday Ms Parata said the Ministry of Education had established an advisory group of literacy and numeracy experts and asked them to suggest how to address the issue.
She said the apparent decline was not surprising, as "the curriculum gets more complex and harder each year".
The Government wants to have 85 per cent of children at or above the national standard in 2017.
Margi Leech, director of maths tutoring company Numicon NZ, said the National Standards maths achievement rates were not surprising.
The problems cut across curriculum, teaching competence and a student's home environment. While the basics could be achieved in early levels, a strong numeracy foundation was crucial when lessons advanced.
"Children do not have the foundation knowledge when arriving at school. Many schools are contacting me, saying that their new entrants are coming in with no idea of numbers."
However, Michael Johnston, a senior lecturer in education at Victoria University who writes on behalf of the Assessment Academy, said parents should not necessarily be alarmed by the apparent decline.
It could reflect the failings of the National Standards themselves, which were notionally and unscientifically set at each year level.
"I don't necessarily trust where they have put the standards. They [students] are not getting worse, they are just not getting better fast enough to have the same proportion of them meeting the standard each year."
National Standards are descriptions of what students should be able to do in reading, writing and mathematics as they progress through levels 1 to 8, the primary and intermediate years.
Schools decide how to assess their pupils in relation to the standards and results are not moderated.
Council for Educational Research director Robyn Baker said debate was needed about why standards are set at the level they are.
Yesterday's figures show 77 per cent of children were at or above the reading standard for their year level last year. In maths the figure was 74 per cent. Individual school data will be released this month.
Family help adds up to success
At the start of last year Havea Fisiihoi, a Year 6 student at Auckland's Owairaka District School, was below the national standard for mathematics.
But now the carefully written decimals in the 10-year-old's workbook speak to achievement that has come through hard work and the support of teachers and family.
Jo Green, co-leader of maths at the decile 2 school, said students could feel frustrated by maths and made to feel stupid, and it was important to counter that. "Maths is a lot more, 'you are right or you are wrong'... that was the biggest thing, to set up little achievable tasks, so that by the end of the year he was achieving all the time."
The hardest challenge was to move basic facts from children's short to long-term memories, and it was crucial families assisted in that.
"A lot of parents will not have had a good experience with maths, so they are less confident to help their kids. So we've been sending ideas home how parents can help."
Havea's mother Elizabeth said the family didn't have internet so went to the library to download learning materials from the school website.
Her son also uses maths games such as Sum Dog on school computers before the morning bell.
Owairaka principal Diana Tregoweth said a problem with national standard measurements is they did not account for English second language or special needs students.