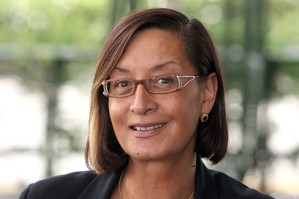 An aborted mayoral bid has cost Georgina Beyer her job and savings, and with no planned work she is heading for the dole queue.
The world's first transsexual MP and former mayor of Carterton had planned a political comeback after keeping a low profile for three years.
After stopping work in June as a salesperson at Michael Hill Jeweller, she was struggling to pay her rent and bills and could not raise the $10,000 she needed to campaign in the mayoral race for Masterton.
"That's left me with no income and having expended all my reserves for living expenses, I'm left with nothing," she told the Wairarapa Times-Age.
"I have a couple of weeks left to pay the rent. I'm really, really struggling."
The 52-year-old's mayoral aspirations crumbled when a Taiwanese friend who was to finance her campaign unexpectedly died two weeks ago. She may leave Wairarapa to seek work, but in the meantime she is applying for welfare.
"There's not a lot of well-paid employment around in Wairarapa, and I would want more than the 500 bucks a week I was on at Michael Hill.
"It's an awful feeling that the only thing you're skilled at doing is politics and other than that arena, it's not really required anywhere else."
Budgeting expert Darryl Evans said Ms Beyer's case highlighted the difficulties high-income earners could face in returning to the coal-face.
"It's very subjective, and for some people $500 can be enough. However, for someone who was earning $130,000 a year, becoming a beneficiary can be difficult ... and demoralising."
Ms Beyer said that as an unemployed woman, she didn't think she had the "moral authority" to run against sitting Mayor Garry Daniell.
Mr Daniell said he spent $15,000 on his last election.
Ms Beyer was a Labour MP from 1999 to 2007 after serving as Mayor of Carterton for seven years.
"I should never have left local government in the first place. I like local government very, very much. Parliament was really an interruption."
She was disappointed to leave Parliament without a political appointment, and at times had felt disillusioned during her three-year hiatus.
- ADDITIONAL REPORTING: APN