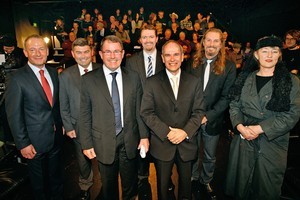 The prospect of Auckland's water services being contracted out to private companies for up to 35 years has been rejected by the two heavyweight Super City mayoral contenders, John Banks and Len Brown.
The mayors of Auckland City and Manukau told a mayoral debate last night they were committed to keeping Auckland's $5 billion worth of water assets in public ownership under the Super City.
At the first Super City debate featuring the seven declared mayoral candidates, Mr Banks and Mr Brown shadowed each other's performance, allowing the lesser lights to showcase their credentials.
The debate, organised by Unitec, asked the seven candidates to spell out their vision, their views on local boards and how they would work with the Government.
After the debate, Mr Banks and Mr Brown said they had serious reservations about a bill from Local Government Minister Rodney Hide extending the limit on water service contracts from 15 to 35 years.
Mr Banks predicted lower water prices from merging the region's bulk water supplier and seven councils' retail operations into a single council-controlled organisation, but said he was "very nervous" about the 35-year water contract provision.
Mr Brown was "very uncomfortable" with the 35-year clause, saying it reflected the philosophy of Mr Hide, who is also leader of the Act Party.
In front of about 100 Unitec students, staff, political hangers-on and others, the other candidates made a good fist of their credentials to lead the largest council in Australasia, which comes into being on November 1.
North Shore Mayor Andrew Williams spoke of a "dynamic connected city" that not only Aucklanders but people in the South Island believed was a great place.
Comedian and former Waitakere City councillor Ewen Gilmour said he did not like the Super City being called Auckland or greater Auckland because it minimised people in places like Pukekohe.
Penny Bright called for Aucklanders to rise up and stop the "corrupt takeover" of the city's assets.
CCOs, she said, were being led by unelected directors who would treat ratepayers as cash cows.
Actor Simon Prast said that by 2050 he wanted Tamaki Makarau, or Auckland, to be the first city of Pacific-Asia, more modern than Singapore, more beautiful than San Francisco.
Anti-smacking campaigner Colin Craig earlier announced his leaky building policy that would scrap the latest package under which the Government and local authorities would each contribute 25 per cent of costs and the owner would pay the other half.
In its place, Mr Craig is proposing the Government and Auckland Council agree on what percentage of rates should go towards fixing leaky homes with the Government underwriting the balance through interest free loans. Councils would still pay for any compensation awarded by the courts.
Mr Craig said continuing with the current scheme could push rates up as much as 25 per cent to pay repair and legal costs for up to 53,400 homes.