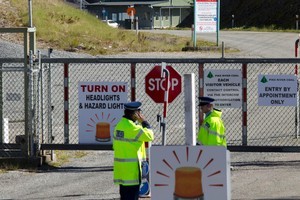 The families of the Pike River mining victims on the South Island's West Coast are urging authorities to go into the mine and get the bodies.
Blurry footage of what was believed to be a second body was shown to the families earlier this week.
All 29 bodies of the miners and contractors killed in the November 19 blast remain in the mine, with police saying it is still too dangerous to attempt a recovery.
Video images have shown what appears to be two bodies. The latest was near a ventilation shaft and close to an open fire fighting box, in a different area to where the first body was seen.
Family spokesman Bernie Monk said the images of the second body were not as clear as the footage of the first body but showed an outline of a body "covered with coal dust".
The lawyer for the families said image reinforced the need to enter the coal mine.
Colin Smith told Radio New Zealand there was substantial evidence to be gained from entering the mine.
Without doing so, conclusive knowledge about what occurred could not be gathered for the Royal Commission of Inquiry into the tragedy, he said.
The families believed images of an apparently open fire fighting box suggested some of the men may have survived the first blast.
Mr Monk said the latest images made the families "more determined" to put pressure on the mine's receivers to go into the mine and "have a look.
"We are going to fight every inch of our life to get these guys out again."
Police said yesterday the mine was still too dangerous to enter.
Assistant Commissioner Grant Nicholls said the video image was of poor quality and it was impossible to determine if it was a body.
It would take two to three months to enhance the latest images from inside the mine, he said.
- NZPA