Graeme Lay braves high seas to get a local's perspective of all the best parts of Rangiroa atoll, an hour northeast of Tahiti.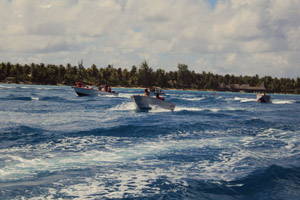 Ugo hands me a heavy duty raincoat and says, "Here, put this on, you'll need it." As I follow instructions, Ugo returns to the cockpit in the prow of the motorboat. He pushes the throttle forward and seconds later we're powering out towards the centre of the lagoon of Rangiroa Atoll. Ugo's fibreglass launch, called Puahiohio ('Waterspout') is 24ft long and driven by a 240hp Yamaha motor.
In the lagoon the strong trade wind is pushing up large swells and whitecaps. The launch cuts across the swells, slews down their slopes and crashes down into the troughs. As I hang on grimly to a rail, feet braced against the launch's gunwale, I'm thinking: "Swells? Whitecaps? In a lagoon?"
Yes, for Rangiroa is no ordinary atoll. The largest in the galaxy of atolls which comprises the Tuamotu archipelago, Rangiroa is one hour by air northeast of Tahiti. Its lagoon measures 75km from west to east and 25 km from north to south, and so is like a sea within the Pacific Ocean.
The slivers of land enclosing this huge lagoon are only a couple of metres above sea level and are composed of coral rubble and sand.
These motus, on which grow only coconut palms, ironwood trees and pandanus shrubs, provide no barrier to the trade winds, so the dark blue swells rush at us relentlessly. I have a sense of extreme vulnerability. We're completely out of sight of any land now, and I'm aware that the lagoon is full of sharks.
"Ay-yay-yay!" shouts Ugo from his for'ard cockpit as we hurtle from the crest of another swell. At least one of us is enjoying this. A man in his 40s, Ugo is Tahitian-French, a burly, broad-shouldered, sun-browned man with biceps like spit-roasted hogs. Steering with a joystick tiller, he scans the water ahead for the coral heads which could tear the bottom out of his launch. Spray flies from the swells and into my face, and I'm grateful for the raincoat. Gripping a rail, I stare up at the bright blue canopy above. Rangiroa means "Long Sky", aptly, as it does seem infinite.
An hour and a half of the jolting and rolling passes. Just when I think I can take no more of the soaking and pounding, Ugo points up ahead and yells. "Voila! Motu Teta!" On the misty horizon a low green smudge is visible, but it still seems a long way off. Then, gradually, the swells begin to subside and the launch's rolling lessens. Minutes later we're in the lee of a small, palm-covered motu, the water is calm and limpid and Ugo is guiding the launch through a channel in the coral towards a jetty. I take off the raincoat and stretch my stiffened limbs. Just above a white sand beach I can see a villa with a shingled roof.
No television, no radio, no internet, no email. There are solar panels to heat the shower water and chill the beer. In the villa French food and wine are served in ample quantities, and in attendance are brawny Ugo and his lovely Rangiroan wife, Celine, the custodians of the motu.
Privately owned Motu Teta is only 3.8ha in size and can be walked around in 10 minutes. The next day I wade into the beautifully clear water beside the jetty, intending to swim there among the fluorescent reef fish. Ugo approaches, carrying a bucketful of fish carcasses.
"Have you seen Princess Yvonne?" he asks.
"Who's she?"
"Watch."
He tosses a fish head into the water. It settles beside a jetty pile. Seconds later a huge, snouted head emerges from under the pile, followed by a thick, sinuous brown body. A giant moray eel. It clamps its mandibles around the fish head, then drags it back into its lair. At my horrified expression, Ugo grins. "Princess Yvonne. Named after the wife of the owner of Motu Teta."
I back out of the water. No swimming. Not here, anyway.
Over the next few days, Ugo proves an ideal guide to Motu Teta and its environment. He's a scuba diver, surfer, fisherman, boatman and environmentalist. He's also an articulate and entertaining dinner companion. Born and raised on Rangiroa, Ugo is Atoll Man. A bright student, he was sent by his parents to Berkeley, in California, on a scholarship. But after Rangiroa its campus was too intimidating, so he spent the three years surfing. Then he returned to Rangiroa, married Celine, and resumed his life as Atoll Man.
Ugo introduces us to Motu Teta and its environs. We kayak around the little island and explore the scalpel-sharp, fossilised coral formations that resulted from tectonic uplift of the atoll's southern shore. We walk on the reef and collect sea snails which Celine serves up for lunch, garlicked and in their shells.
We visit a pink sand spit, and from it feed a school of black-tipped sharks. Ugo lassos one, wrestles with it, then lets it go. He catches trevally by surf-casting perilously from the reef into the ocean, and he captures, trusses and transfers to Motu Teta from a neighbouring motu three young coconut crabs, which are an endangered species on the island.
The return transfer across the lagoon is not so gruelling. The wind is calmer, the swells moderate, and soon we're skimming along in the lee of the apparently endless line of deserted, palm-covered motus. The water is brilliantly clear and there are leaping eagle rays and flying fish to entertain us. Ugo's launch passes the atoll's administrative village, Tiputa, then he veers right and we enter the pass of the same name.
Two great passes connect Rangiroa's lagoon with the open ocean. Tiputa is one, the other is Avatoru. Both are several hundred metres wide and very deep, thus providing ideal entry and egress for ocean-going yachts. The passes' powerful currents carry small fish and krill from the ocean to the lagoon for sharks, rays, morays and myriad other species to feed on, making Rangiroa's lagoon one of the world's largest natural aquariums.
Ugo steers the launch through the pass's streaming waters and out to where its currents meet the open ocean. Here the ocean swells are moving mountains of water, turbulent as well as rearing. As Ugo powers across the swells and we are plummeted down the other side, once again I adopt the brace position. Standing in the cockpit, cap crammed on his head, Ugo looks around anxiously. What the hell is he after?
I hang on to the launch's railing, trying to avoid eye contact with another mountainous swell as it bears down on us. Then Ugo points, shouts. "Les dauphins!" And we too see his quarry. Dolphins, a whole pod of them. They're surfing the swells, cutting in front of the launch, breeching, leaping, grinning up at us as we try to follow them. They're big, but so nimble that we can't keep up. We can only try to follow them as these wonderful comedians of the sea remind us that we are guests in their environment.
There is a marine reserve just inside Tiputa pass. Ugo ties up to a buoy and we snorkel amid a million iridescent fish whose appetite for Ugo's fish carcasses seems insatiable.
Then, returning to Rangiroa's main motu, we're joined by a flotilla of local boats, supporters of a canoe race to the neighbouring atoll of Tikehau. On atolls, boats are far more useful than motor vehicles.
Back at a hotel on the main island, I study a map of Rangiroa's motus and its lagoon. Superimposed on the vast lagoon is an outline of Tahiti Nui and its conjoined neighbour, Tahiti Iti. Both these large islands could easily be fitted within Rangiroa's lagoon. There are no plans to do so, though, I'm pleased to report.
CHECKLIST
Getting there: Air Tahiti flies several times daily from Tahiti to Rangiroa.
Further information:
YourDreamIsland.com
tahitinow.co.nz
Graeme Lay travelled to Tahiti, Rangiroa, Huahine and Motu Teta as a guest of Tahiti Tourisme and Air Tahiti Nui