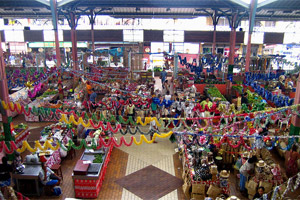 The crashing waves in the distance burst like fireworks along the reef and sound like the roar of a jet plane.
I'm sitting on my veranda looking over the pool and ocean at the brand new Manava Suites, mesmerised by the raw and rugged ocean pounding off shore.
Inside the reef the waters are calm and canoeists are training as the island of Moorea stands in the distance. Four-man teams with outriggers, single skullers and double kayakers, some doing sprints, others just paddling at leisure.
And leisure is what everyone this side of the lagoon is pursuing. Deck chairs surround the infinity pool that drops into the ocean. At the right a sandstone waterfall cascades and to the left is a swim-up bar with a thatched roof.
Today though it's a bar with no beer as the Manava Suites waits for its liquor licence to be approved from France. That's the way of things in Tahiti.
Everything has to be approved by President Nicolas Sarkozy. (I might have made that bit up, but certainly paperwork like liquor licences has to go through Paris.)
But, as the saying goes, good things take time, and the licence at this brand new hotel is worth waiting for. It's a stunning property and most of the rooms are designed with kitchens which makes for a cheaper Tahitian holiday than you can get at the many high-end resorts so famous in French Polynesia.
In the meantime, Manava accommodates the alcoholic hiccup by allowing guests to buy their own booze (there's a bottle store about 100m down the road) and drink it in their rooms, on their verandas and even by the pool.
There is a restaurant serving sumptuous a la carte and buffet breakfasts, as well as lunch and dinner, and the open walls allow the balmy breeze to remind you of your exotic location. But to save on resort meals, the enormous Carrefour supermarket and department store is only 10 minutes away by taxi. It's like K-Mart - you can get pretty much everything from computers and appliances to clothes and shoes, homeware, groceries and booze.
I walked around taking notes (and photos, for which I was told off) to compare prices. I was surprised to discover that New Zealand beef is cheaper up here than at home. Gooey French cheeses come in all shapes, sizes and flavours and start from about $3.50 for a wedge. McCain's pizzas (and many more brands) are in the freezer and fresh fruit, veges and baguettes are plentiful. I love sashimi and nearly drooled over a huge piece of tuna for $8 which would feed about six people as a very tasty appetiser.
Wine starts from around $10 a bottle for French and Chilean varieties - we settled on a $17 blanc - and Hinano beers are under $3 a can.
For fresh local produce, take Le Truck (the public bus for $3 each way) or the twice-daily shuttle from Manava Suites into Papeete. The town centre can be a bit of a shock to the senses if you are expecting the same standard as your 4- or 5-star resort. Dilapidated apartment blocks surround the market where brightly coloured sarongs flap in the breeze and scooters whiz past with shoppers carrying their groceries from vendors selling fresh fish, tropical fruit, veges, flowers, fragrant oils and loads of crafts and souvenirs.
Beware of the black pearls though. If they're ridiculously cheap they're probably made from volcanic rock and polished to look like pearls. Then again, the volcanic pearl jewellery is very pretty with a metallic shine, and you'll find cute (and cheap) necklaces, bracelets and earrings.
But the authentic famous Tahitian black pearl comes in stunning hues of pink, green, blue and gold and if you want to pick up a bargain, just a short walk from Le Marche is the pearl market with three floors of varying priced pearls. You can design your own piece of jewellery or choose one ready-made from the pearls of varying price and quality from the farms around the islands. I selected five odd-shaped seconds and had them made into a lanyard-style necklace for about $100.
As our tummies rumbled we headed under the red awning of cafe Le Retro for lunch, positioned ourselves for excellent people-watching, ordered a Hinano beer for $6 and shared what turned out to be an enormous platter of tuna sashimi and tartare for about $25.
But I hadn't come all this way to skimp entirely, so the next morning we took an early ferry for the 20km voyage to Moorea (about $45 return), for a day trip.
Scooters and jeeps can be hired at the ferry terminal upon arrival. The road around the entire island is 60km which makes it the perfect place to disappear and explore at your leisure.
Or maybe you want to splash out and treat yourselves to a motu (island) picnic with fresh poisson cru (raw fish salad), swim with dolphins at the Intercontinental Resort, see a show at Tiki Village, or scuba dive or snorkel in some of the best underwater gardens decorated with exotic fish in the world.
Back in Papeete, we headed to the Roulottes for a budget dinner. This open-air food market happens each evening at the ports where dozens of caravans assemble, fling open their sides and the smells of sizzling mahi mahi and tuna steaks, pizza, crepes and barbecue fills the air.
You'll eat at plastic tables for under $20, saving money to spend tomorrow on a decadent spa treatment ... or you could be sensible, take it home and invest wisely for your next trip to one of the other 118 French Polynesian islands.
CHECKLIST
Getting there: Air Tahiti Nui has regular flights from Auckland to Tahiti. See airtahitinui.co.nz or ring (09) 308 3360.
Where to stay: Stay five nights at Manava Suites (which does now have a liquor licence) in a Lagoon Studio Suite from $1825 per person, including return economy class flights on Air Tahiti Nui from Auckland to Papeete and airport transfers (travel to be completed by December 19).
Further information: To find out about accommodation and activities see Tahiti Tourism's website at tahitinow.co.nz
Megan Singleton flew courtesy of Air Tahiti Nui and was assisted by Tahiti Tourisme. For more of her travel musings see bloggeratlarge.com