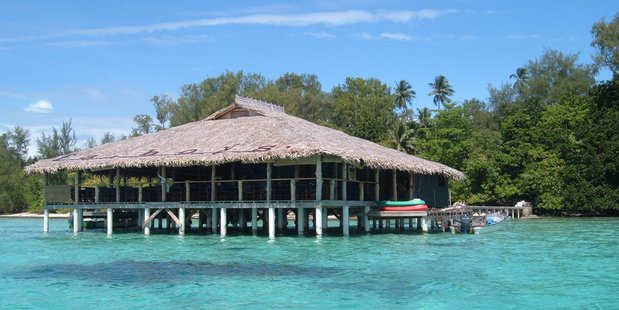 Every time Solomon Islands guide Ravia takes people to Skull Island, there are fewer offerings of precious shell money piled around the skulls of the head-hunted, which are stacked up like ancient war trophies.
For centuries the people of what is now the island nation's Western Province engaged in ritual war, building mighty war canoes and conducting head-hunting raids on neighbouring islands, in the belief that power was stored in the heads of their victims and strength could be gained by capturing them.
The victors would take the skulls back to sites like Skull Island as offerings to the "bigman chest", where the heads of thousands of ancestral chiefs are stored in above-ground burial chambers.
I lean close and eyeball the skulls of vanquished warriors, getting lost in the power of this ancient symbol of man's ability to think and act and make love and war.
Ravia's mind is elsewhere too, doubtless thinking of bygone days, and he has to snap back to the present when some tourists touch his shoulder and ask him to take a photo of them grinning madly in front of the skulls.
It's an even bigger jump in time when a short boat ride takes us back to the civilisation of Lola Island, sitting at the bar at Zipolo Habu resort, drinking cola and eating crayfish omelettes, looking out at calm waters and a lime-green yacht.
Ravia mentions that much of the shell money has been pilfered from the burial sites.
"Men come in by canoe at night and burn sulphur to chase away the spirits," he says.
"Then they can steal the shell money and sell it later without the spirits haunting them."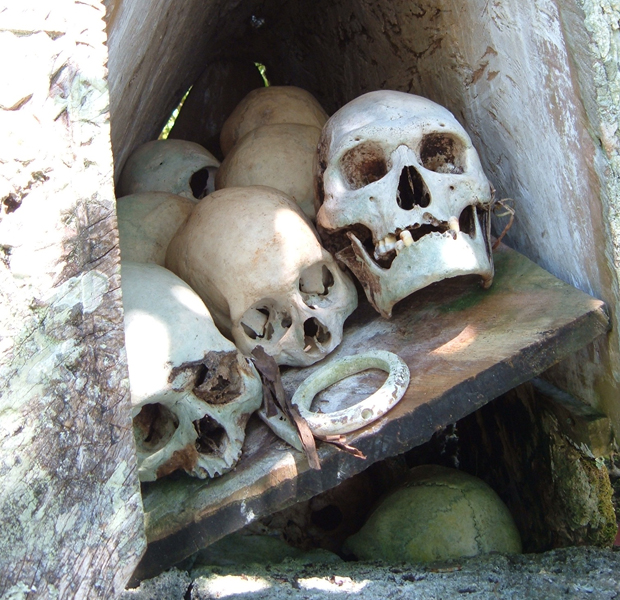 The skulls of ancient chiefs on Skull Island, in the Solomons. Photo / Kelly Chandler
Apparently, Eddie, an elder from Madou village across the water who accompanied us on our visit, is the last in the line of Skull Island chiefs and tries to keep vigil.
"The old man lives there most of the time now, he's like the guardian of the ghosts," said Ravia, a guitar on his knee and a camouflage bandana wrapped around his head.
Talk of ghosts seems a bit less threatening at Zipolo Habu or, for that matter, at the nearby town of Gizo, a 30-minute boat trip away and the gateway to this part of the Solomons.
Gizo's airstrip is a grassy, potholed runway, from which passengers are transported by speedboat to the township itself, where corrugated iron buildings, palms and sunflowers line the seafront and canoes bob around close to shore.
Every now and again the sea hiccups and disgorges a school of flying fish.
In the main street groups of boys in bandanas ride their bikes around so slowly they almost defy gravity. Others slide under the awnings of battened-down shop fronts to pass time.
Into this scene, which could double as a frontier town movie set, we arrived last month, not only to sample the tourist attractions offered by the Western Province, but also to join up with a local who, like many others, is preparing his return home.
When violence erupted in 1999, some of the brightest and best local people fled the country fearing for their lives. Included in this number was the country's only qualified ophthalmologist (eye surgeon) Dr John Szetu.
For 14 years he had poured all his energy into developing the country's national eye care services, developing clinics and training strategies to ensure that all people of Solomon Islands could access high-quality eye care services and surgery.
But as law and order disintegrated, and after repeated threats to his security and the safety of his family, he had to leave it all behind.
"I felt guilty to leave my country, but I didn't have a better option," Szetu says.
"I was practically forced to leave. I abandoned my clinic, my nurses, but they were not normal times."
At the height of the trouble he took refuge in Australia with his family, and while there was offered a position by the Fred Hollows Foundation (NZ) to develop a national eye health programme in Vanuatu.
The loss of Szetu was "disastrous" for the local people, according to a local politician in Gizo, Danny Kennedy, who owns the dive shop, Adventure Sports Dive Gizo.
"Kids who fell on sticks and poked their eyes out were left blind as there weren't any doctors who knew how treat them," Kennedy says.
"Plenty of people suffered massive eye injuries during the tensions, too, and many people have gone blind."
Szetu believes it's now time to come home. He made a trip back with the foundation in August to conduct eye surgeries in the Choiseul and Western Provinces, and to finalise plans for the new Pacific Eye Institute, which the foundation will build at the National Referral Hospital in Honiara.
The clinic is an integral part of the Fred Hollows plan for training eye nurses and doctors across the Pacific and it has been given a huge boost by Szetu's decision to return to Honiara permanently next January as the training centre's new principal and chief ophthalmologist.
"During the time since the tension I have tried to visit the Solomons as often as possible to help my people," he says. In between these twice-yearly dashes home over the past five years, his team has done more than 25,000 consultations and operated on or restored the vision of more than 3000 people in Vanuatu.
"We feel very excited to be coming home," he says.
"This is the beginning of a new phase in the Solomon Islands. We are part of the process of rebuilding, regaining our national confidence and healing our wounds."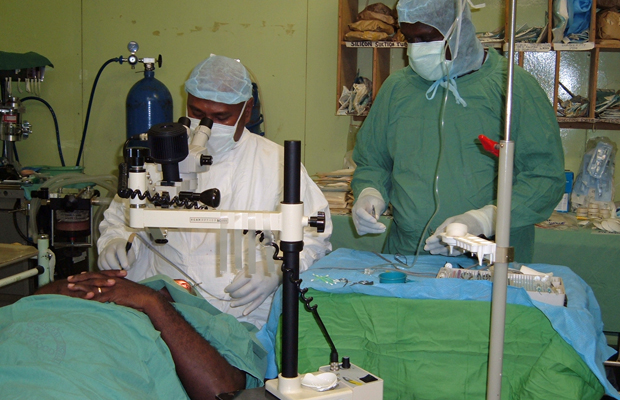 Eye surgery at the Fred Hollows Foundation in Honiara. Photo / Kelly Chandler
Szetu is not the only professional returning. All 13 doctors who left the Solomons for postgraduate training returned home last year. There is an air of optimism.
Solomon Islanders are, however, still traumatised by the devastating effects of ethnic tension between the Guadalcanalese and settlers from the province of Malaita that engulfed Honiara and spilled over into some of the provinces.
The lawlessness led to looting and destruction that did not abate until the international peace-keeping force Regional Assistance Mission to the Solomon Islands (RAMSI) was deployed in 2003.
Economic confidence is gradually returning, and while the infrastructure of the nation is still recovering, people are beginning to feel safe again on the streets.
Back in Gizo, while Szetu and his team set up the makeshift eye clinic to start around 50 surgeries over the next four days, we board a dive boat for a deep drift dive at one of the 25 dive sites in the area. Close by are wall dives, reefs and wrecks, offering encounters with turtles and reef sharks.
Marine diversity is a magnet for divers in the Solomons. In a survey last year, 279 fish species were counted in just one area in one dive. Marine conservation areas and awareness campaigns are rebuilding over-fished reefs and waters, providing safe breeding grounds to counteract years of over-fishing that have seen the stocks of commercially important species plummet.
We spend the afternoon cross-legged on the jetty of Fatboys bar over the water, watching kids play in the hammock and listening to stories from locals, divers and yachties. I eye an impressive stack of speakers and DJ equipment, and wonder how much reggae it would take to push me over the edge.
By midnight the bar is writhing with well-lubricated locals and travellers, and a batch of foreign medical students, including a Wellington intern completing his placement at the Gizo hospital.
We take up positions on the dancefloor for a night of reggae and hip-hop with live MCs rapping in pidgin, though periodically someone notices a speedboat has untethered itself and stops dancing to retrieve it, because they are our only form of transport (by the light of the full moon) back to Gizo.
Several days later, I find myself on the way to Munda Island by speedboat with Ravia and a scuba-obsessed tourist who belongs to the Travellers Century Club. Membership of this club is limited to those who have visited more than 100 countries, and this guy claims to have visited more countries than there are in the world (counting disputed territories), and seems to have dived in them all.
Of all these dives around the globe, he shouts above the noise of the outboard, the Solomon Islands are the most spectacular.
Then the Pacific gives way to mangrove and river-like hazel-green channels, and Ravia lets out a laugh of the possessed.
"Eh! It's like Vietnam, man! There's crocodiles in there," he says as we wind our way through a Mekong-esque waterscape, village houses touching the lagoon with stilts for fingers.
It may not be Vietnam, but the Solomon Islands, which stretches from the equator to the Tropic of Capricorn, is no stranger to warfare.
Some of the most intense fighting of World War II occurred on the archipelago, which lies east of Papua New Guinea and comprises nearly a thousand small islands, 347 of which are inhabited.
For six months during World War II, a brutal air-sea-land campaign was fought against the Japanese for control of the obscure island of Guadalcanal, where the modern capital Honiara is found.
The fighting was so bitter that the waters became known as Iron Bottom Sound, the seabed a graveyard for both US and Japanese naval battleships and aircraft. It is now a wreck diver's paradise.
It is difficult to have a conversation without the subject leading back to the most recent disturbance of the peace, variously referred to as "the tensions", "ethnic conflict", "the coup" or "the war" that began in 1998. Only now are people starting to recover.
"We used to make a lot of noise playing music, and when the clubs closed we'd all pile down to the beach until dawn," says one musician.
"We want to make some noise again, have some fun."
Music is deeply entrenched in the culture of Solomon Islands, which is rich in Melanesian, Polynesian and Micronesian histories.
The bamboo panpipe groups and chanting made famous by Deep Forest in the early 1990s are among the customs that the Solomon Islands Visitors Bureau is aiming to revive to attract foreigners back.
Although statistics are rough because the office lost its data during the conflict, about 6000 tourists come to Solomon Islands each year, mostly from Australia and New Zealand.
The aim is to boost this to pre-tension levels of 16,000 by 2007, through a series of events including the Malaitan dolphin calling ritual, a panpipe festival and a Pacific yachting regatta finishing in Gizo.
The past five years have been tough for Kennedy's dive business in Gizo, but he believes the confidence is coming back, and now his shop is organising about 20 dives a day.
The owners of the Gizo Hotel, and its sister, the King Solomon in Honiara, report a steady increase in their numbers of guests. The luxury boats are starting to return, as are celebrity visitors, including New Zealand fishing gurus Captain Asparagus and Bill Hohepa, eager to dive and fish in the pristine waters.
"There are plenty of places in the South Pacific with beautiful beaches and clear water," Kennedy says.
"We have to start marketing ourselves properly to bring people back.
"The Solomon Islands was the turning point for World War II, it was one of the places the war was won. From a diving perspective this gives us an amazing number of wrecks to explore. There is so much more to this place than palm trees and white beaches."
Dr Szetu agrees. As he checks the vision of his patients who had cataract surgery this week he talks about the Fred Hollows Foundation (NZ) Pacific Eye Institute in Honiara, and how exciting it is to return home to start a new venture.
"This week we have operated on people who have been blind because no one was here to treat them," he says.
"It is sad that innocent people have suffered over the past few years in the Solomons. Now we have a chance to change all that."
CHECKLIST
Getting there: Solomon Air is the only airline servicing the Solomons area.
Accommodation: See the Solomon Islands Visitors Bureau.
Honiara's King Solomon Hotel has a cablecar to carry visitors up to its hillside site, plus a pool, poolside bar and a restaurant bar that is one of the town's nightspots. Email: kingsol@solomon.com.sb
The Kitano Mendana Hotel, on the waterfront in Honiara, can be emailed at: kitano@mendana.com.sb
There is also a range of budget accommodation.
Gizo Hotel is on the main street in Gizo and has a lovely open-air restaurant overlooking the market and water. There is a pool and a poolside aromatherapy and massage centre. Email: kingsol@solomon.com.sb
Agnes Lodge on peaceful Munda Island has rooms ranging from basic backpacker-style shared accommodation. The dive shop offers expeditions to many locations including Shark Point. Trips can be taken to Skull Island, and there are rainforest walks and war relics. Email: divegizo@solomon.com.sb
Dive: Gizo Adventure Sports offers snorkelling, village tours, World War II sites, boat hire, tour information and resort bookings for Uepi Island Resort.
La Masa restaurant in the main street of Gizo is clean, cool and cheap for lunches and dinners.
Lola Island's Zipolo Habu Resort has an anchorage, restaurant and bar, and five bungalows from $50 a night, plus transfers from Munda. They offer game fishing. There's also surfing at reef breaks, the waves reaching 2m.
Oravae Escape ecolodge is a 15-minute boat trip from Gizo, with one bungalow sleeping eight people. A local couple provide transport and an evening meal of island food. A cool breeze keeps away mosquitoes.
Further information: See solomonconnect.com.
The Fred Hollows Foundation: From January, travellers to Honiara will be welcome to visit the eye clinic site being built at the National Referral Hospital, Honiara. Donations to support the clinic and training centre can be made directly to: The Fred Hollows Foundation (NZ), Private Bag 56 908, Auckland, or by phoning 0800 227 229.
Kelly Chandler and the Fred Hollows Foundation (NZ) travelled to the Solomon Islands courtesy of Solomon Air, and stayed at the King Solomon and Gizo Hotels.