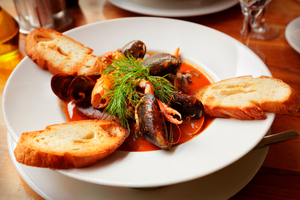 Calling all seafood lovers. If you are ever in San Francisco, you have to try cioppino.
No, really. Do not miss the chance. When I knew I was coming here to cover the America's Cup, it was one of the first things I wrote down on the "to do" list.
Cioppino originated in San Francisco, part of the Italian-American heritage of this place, particularly around the suburb of North Beach.
North Beach used to be Little Italy but is far more ethnically diverse now and is a mix between Italian, red-light district (Larry Flynt's Hustler club is there) and social conscience (it's the home of the incomparable City Lights bookshop, in the heart of the quarter that used to house the Beat generation of Jack Kerouac and Allen Ginsberg and which has books with titles like Why Marx Was Right) .
But it retains a strong Italian flavour and is the birthplace and stronghold of cioppino.
This wonderful seafood stew is San Francisco's answer to France's bouillabaisse or Portugal's cataplana, both of which I had enjoyed in situ years ago. They were great. Cioppino is even better.
It was born from using all the elements of the catch of the day when Fisherman's Wharf was actually a wharf and not a tourist attraction. It consists of crab, mussels, scallops, squid, octopus, white fish, clams, prawns and shrimps - all simmered in a fresh tomato and wine sauce and served with crispy bread to sop up the juices. Toss it down with a carafe of the perfectly good house red.
We - a group of four - enjoyed it at a restaurant in North Beach called Sotto Mare. A narrow, cramped restaurant with a marble bar, it was down-home and as authentic as it is possible to get outside Italy, right down to the voluminous splatter of kitsch on the walls.
We were served by an enthusiastic waitress of ample proportions, the noise level was what it should be at an Italian restaurant - high - and the prices good in what can be an expensive town to eat out.
Cioppino comes in a stainless steel pot and is usually too big for one person so is shared between two at US$39 ($48) a pot. It is beautifully fresh, with a tomato broth that seemingly only Italians can produce, and is not so robustly garlicked that no one will sit next to you on the bus for the next three days.
I am going back there if I get the chance.