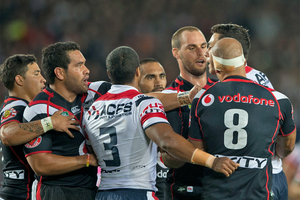 Pardon the interruption ... the All Blacks' latest crushing of the Aussies and a wacky yacht race series out of San Francisco are hogging the sports news but here's a scary headline for the future: "Warriors collapse under weight of Eden Park."
The NRL club's move to Eden Park is supposedly a fait accompli, although more likely a fatal blow to league's healthy future. Eden Park has apparently sucked up so much money that our beloved city leaders can't find enough coin to maintain or redevelop Mt Smart Stadium, so league is being chucked to the wolves.
A club whose nearly two decades of roller-coaster form can see crowds as low as 8000 in attendance will have a 45,000-seat stadium - one that is not a good league venue when crammed full - as a new home ground. The city leaders have paid more respect to cricket than league. Eden Park is a football ground shaped for cricket even though cricket is hardly ever played there any more.
What's the difference between cricket and league? Probably that cricket people move in influential circles.
There is, at least, a little league protest movement trying to fight a rearguard action. These valiant battlers erected signs at Mt Smart during the Warriors' latest loss to the Panthers, but they are pushing the proverbial uphill. The protesters are right, though: Eden Park is a terrible league venue, because the intimately gladiatorial nature of the game is lost in the vast, wrongly shaped spaces. Even in a less than glorious condition, Mt Smart is still a better home ground.
The state of Auckland's sports facilities reflects the adage that it's not what you know, but who you know that counts. League has not fought strongly enough, has been politically naive, and in particular made no impact during the great stadium debate before the 2011 Rugby World Cup.
So well done to rugby. It has won. League has been sucked into the Eden Park vacuum, where it will live a horrible existence surrounded by echoes and vacant seats. The city that is increasingly dominating New Zealand life doesn't have a decent stadium for league or soccer, and for that matter anything apart from a grandiose World Cup rugby final.
The city leaders can't even find solutions that are remotely adequate for the present, let alone envisage what can be achieved for the future. Among the events Auckland won't be getting are the All Whites' World Cup qualification games.
Don't forget, too, that the Warriors' master plan may involve turning the team into a travelling PR roadshow around the country. Poor Eden Park crowds will be a nice excuse to execute this plan.
A sparsely populated Eden Park and touring circus approach will relinquish genuine home ground advantage - the Warriors' record at Eden Park and around New Zealand is awful. Any title-winning aspirations, remote as they normally are, will be further undermined. Rugby will be laughing itself silly. Am I bitter? Too right. What we have been left with is a disaster for a soccer and league fan. It's not particularly great for this rugby fan either.
This was the moment for Auckland to appoint a stadium supremo, a character with strength, a genius for diplomacy and vision to find a genuine answer to the stadium mess. Instead, the solutions were left to tired, muddled politicians and number-shuffling bureaucrats who have failed yet again. A salute to those protesting Warriors fans, and the best of luck.
Awash with talent
The production line of quality players in New Zealand rugby is extremely impressive, to a point that there doesn't appear to be too much alarm over the three top No10s all being invalided out of Saturday's test against Australia. The selectors get so many decisions right these days that it is a dangerous business predicting they might be wrong, but mistakes still occur. In other words, I have little faith in Colin Slade, who looks skittery and lacks composure. But there's something about Tom Taylor ... and he's a cracking goalkicker.
No surprises at injury bill
A reader who has spent much of his long life involved with rugby rules and refereeing says he's not surprised at the game's $64 million injury bill. He writes: "Of course rugby players are going to be hurt when referees compromise the law at the tackle situation ... 100kg or more illegally off their feet landing on the players involved in the tackle. Of course players are going to be hurt when players without the ball are illegally smashed out of the ruck/maul configuration. Over the last two Saturdays I have been at Orakei watching the under-13 and below semifinals. Parents beside me yell 'blow over'. They have been surprised when I have remarked that 'blowing over' is not condoned by rugby law."
The way top-level rugby players are allowed to smash opponents without the ball surprises a lot of us.
Advice for Ryder
Here's some advice for cricketer Jesse Ryder. Forget about the cheap tricks for losing weight, and look at your diet and exercise programmes instead. The real issues affecting your life will not be solved by pill popping.
As for the offence itself, there's no doubt that Ryder knew there was some risk.
Whatever the advice he received, ultimately he erred on the side involving a lack of caution.