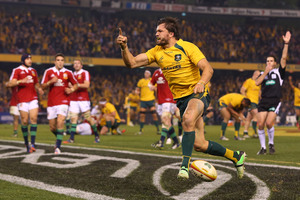 Rugby's self-perpetuating equation goes something like: momentum + impetus = energy.
The Wallabies are riding that wave after levelling the series while the Lions are swimming in Noosa, apparently carefree but churning beneath the surface.
They should have been basking as series winners yet are now doubting themselves, their style and their ability to dispel the rugby fates which occurred in Australia 12 years ago.
There is no psychologist listed amongst the 28 Lions staff on tour but someone with that specialist therapeutic knowledge would be in fulltime demand this week.
Shattered minds and bodies have to be repaired before the winner-takes-all test on Saturday in Sydney.
The Wallabies shifted straight to the city and their recovery routines while the Lions opted to fly 2 hours to their Sunshine Coast retreat.
What should have been a celebratory interlude will now be a salvage exercise for the entire group.
Minds have to be cleansed, bodies sorted and selections made on the basis of those fit, clutter-free and in the right state to front in Sydney.
The Lions planned this getaway before the tour began.
The idea was appealing, a warm sojourn to recharge for the last exam in Sydney.
The All Blacks did something similar in 1999 at the Rugby World Cup when they nipped off to France for some downtime and then struggled mightily to overcome Scotland in the quarter-final.
In practice, the Lions' sortie meant a lack of immediate recovery time, an extra flight and all the logistics that entails.
They will not be immune from the mounting inquisition of the European touring media corps about how they plan to get the job done in Sydney.
Their coaching masters will be questioning themselves and strategies which showed they attacked infrequently with the ball in hand, and suffered.
Do they persevere with the same physical approach, are they playing enough rugby with their kick, chase, pressure and defend tactics to unnerve the Wallabies?
Do they need to alter some theories or just be better with their original ideas? Who is fit, mentally and physically for the decider?
Those details will be thrashed out in planning sessions, talks with the medical staff and conversations with the players.
A new leader is certain with Welshman Sam Warburton ruled out yesterday by a torn hamstring. The candidates to take the armband on Saturday would include Irish veteran and former Lions skipper Brian O'Driscoll.
Then there is the Welsh factor. Coach Warren Gatland may think about stacking his final Lions starting selection with even more from the valleys - Jamie Roberts, Mike Phillips, Toby Faletau, perhaps Justin Tipuric and Richard Hibbard - in the hope they will gel better.
In the back of his mind, though, he knows Wales lost four times to the Wallabies last year when they were run down in the final quarter.