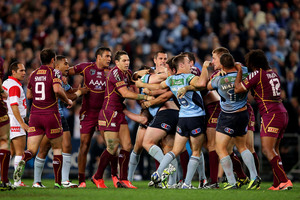 Sending four players to the sinbin during the second State of Origin match in Brisbane was a farce and I can only hope the new edict that caused it is scrapped, or heavily reviewed, before we see any embarrassing repeats.
Luckily for all concerned, Queensland were well on the way to victory when two players from each side were yellow-carded under a new get-tough directive from David Smith, who heads the ARL's commission that runs the game in Australia.
Three of the dismissals were, without doubt, incorrect and in a close game it might have decided the contest, which would have resulted in all hell breaking loose.
If it was up to me, the directive would be ditched and the handling of violent incidents left to the discretion of the referees, using the existing rules. The one punch and you are off rule is too black and white. The referees must have felt pressured on Wednesday night, fearing they would get a giant black mark against their names if they ignored the powers above.
If it does remain, there must be more sensible use of the video referee to help judge those situations, to avoid wrong decisions such as the ones that marred a fabulous Origin match.
I doubt whether anyone in the game will be happy with what happened and the ARL needs to take note. Parramatta were heavily fined for coach Ricky Stuart's criticism of referees' boss Daniel Anderson, who he implied was not listening to coaches.
The Origin match also has ramifications for the Warriors, who play Brisbane in Auckland on Sunday. The Broncos' Queensland players will be on a high but the Origin is a draining game. Broncos coach Anthony Griffin has gone against his initial policy by selecting the state players, but he has no choice. Brisbane are desperate for points and their top players are must-haves against the Warriors. The Broncos are down on size at the moment, and it is clear that the Warriors are out-muscling teams that can't match their strength.
The Warriors have found a new spirit with players desperate to help each other, the hallmark of top teams such as Melbourne and Manly. It is wonderful to watch, and I think they should overpower the Broncos.