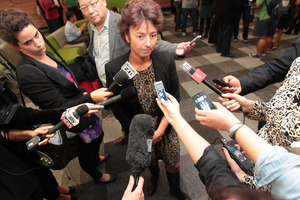 Dame Susan Devoy has promised to 'keep an eye' on Winston Peters. A better use of her time would be to take a civics lesson.
Personally, my vocabulary is inadequate when it comes to Mr Baubles. I'd need a new noun, something stronger than antipathy, to articulate my contempt for the man; but I am a columnist writing in a privately owned newspaper.
Susan Devoy is no longer a columnist, she is a public servant charged with providing race relations services to the public; what right does she have to sing on a political stage? Imagine the Electricity Commission coming out and denouncing Contact Energy for being expensive. These officers are there to enforce the rules; not to pass judgement on the players.
After Devoy's ill-considered comments Peters asked aloud; had Devoy even read his speech? It was a fair question. We all know a dog-whistle when we hear one but Peters should be judged by what he actually said, not what was filtered through the Chinese whispers of media sound-bites (bad pun intended).
The speech is on his website and although it is the usual xenophobic nonsense that nationalistic politicians never tire from, the most offensive thing in it was that he quoted Keynes.
Peters is opposed to unrestricted immigration. He is unhappy at young Asians coming to New Zealand and bringing in their elderly parents to enjoy the benefits of our welfare state. He frets at the burdens imposed on Auckland's infrastructure of new migrants and the influence of overseas criminals.
He does not trust the Chinese government nor does he like sex workers entering the country on a student visa. The speech awful but it was not racist and did not incite racial hatred.
Devoy may feel a need to demonstrate her anti-racist credibility. Possibly she is finding that her office is pointless. I struggle to recall anything positive achieved by perpetual junkets like the Race Relations Commissioner. The office may provide some moral leadership on race issues although I doubt it. Billy T James, Raybon Kan and bro'Town have done more to improve race relations than anything put together by the Race Relations Commissioner, but that is not my point.
The political and commercial neutrality of public servants is important; not just in Race Relations but in all areas, from Agriculture to Zoology. They are there to enforce the rules made by parliament and not to influence the process by which laws are made.
Peters is an elected politician outlying his agenda for the next election. He raises valid issues and has a degree of support within the community. An unelected public servant has no place to challenge him and her use of the bully pulpit to bolster her own status is an abuse of her office.
With luck Peters will have the opportunity to write his memoirs after the next election; the decision on his future is one for the electorate. Not Dame Susan.