TV blogger Paul Casserly looks at the new wave of nostalgia in TV and advertising, from Mork and Mindy repeats to Mitsubishi ads.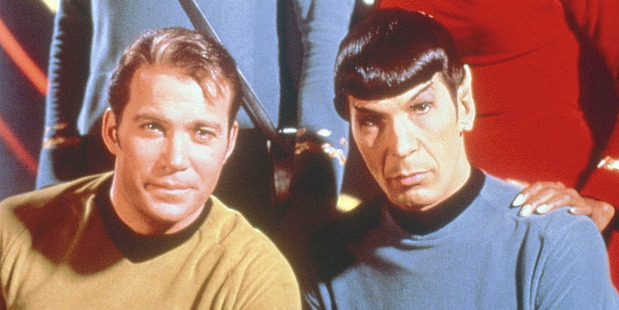 At some point we began looking backward more than forward. As a kid it was all Lost in Space or The Jetsons. Everything was Buck Rodgers this, Battlestar that. These shows were pretty good at predicting all manner of things about the future - cars that look like Prius's, Bieber haircuts, iphones, herpes - but none had an inkling about the future of TV itself and the endless syndication goldmine that lay ahead. Star Trek is still running all these years later and is now playing, right at this moment, in approximately 21.7 languages in 151.9 countries.
But the makers of Space 1999 stuffed up when naming their show, back in 1975, not realising that one day it would be 2013. The artist who is now known again as Prince also learnt this to his peril. He watched as the royalties for his song 1999 dropped like an Eagle Transporter onto the dark side of the moon the moment the clock struck midnight 13 years ago.
Although history will no doubt show that rather than crying himself to sleep, the man once dubbed a "dwarf dipped in pubic hair" will have spent most of his life laughing all the way to the bank.
Today futuristic TV shows are in short supply, the few that exist being shoved aside by men with swords or ladies with cigarettes. Old is the new new. It can be seen on The Hour, Pan Am, Madmen, Game of Thrones, Vegas, Boardwalk Empire, Downton Cobblers; the list, like an old man banging on about the past, just goes on, and on, and on. Add to the mix the growing back catalogue of shows in a constant state of re-run. This resource is soon to be engorged by Sky TV's new Jones! channel, which goes to air next month, flogging the zombie carcasses of Star Trek, Dad's Army, Cheers, Mork and Mindy, The Sweeney etc.
I recently attended a launch for the channel and found myself genuinely excited by the line up. People even squealed as the promo reel ticked off the reheated delights. But given the pile of books I will never read keeps piling up, the prospect also makes me a little sad. I don't need to see this stuff again, but will I be able to resist? How many more times do I need to hear the immortal words "Don't panic!" or "Nanu nanu?"
Arguments flared about whether Dad's Army was indeed the best sitcom of all time. (Radio Live's Graeme Hill says yes.) Others were surprised that Twin Peaks is old enough to be considered nostalgia. Meanwhile Captain Kirk, in his earthly guise of William Shatner, was wheeled out to anecdote and delight us into a PR induced stupor. Interestingly he wasn't keen to talk so much about the old days and was all up on the modern, on social media, on his own website, Williamshatner.com. "What's on your bucket list?" asked the perky MC of the 81 year old. "Bed, I'm really tired", replied the TV legend.
In the flesh, Shatner is fleshy, but even though he was buggered by jet-lag, he's sharp and sparky and somehow turned the 'bucket list' question into a spiel about his latest venture, a low-fi, online show that incorporates his two passions, talking and drinking. Like Jerry Seinfeld's brilliant, Comedians in Cars Getting Coffee, Shatner's online series, Brown Bag Wine Tasting, deftly mixes the future with the past. The future being online non broadcast TV, the past: both stars use nostalgia as the main weapon, cashing in on their own past glories and interviewing various other blasts from the bygone.
Shatner's interview/wine review with Lou Ferrigno, (80's TV's Incredible Hulk) is actually more about the person than the piss, but it's nicely done, charming, revealing even. Who knew the Hulk was deaf as a post and a bit of wine buff?
The power of nostalgia is so powerful that it can be used to sell things. In an ad-break near you comes the new Mitsubishi Mirage campaign, which is actually the old Mirage advert from the 1980s. It becomes obvious why they're using an old ad for a new car when we are briefly given a peek-a-boo glimpse of the lime green glob that passes for the new model. No doubt a brilliantly economical and reliable motor resides inside the bulbous re-boot, but it made me nostalgic for the shapely cars of the 1980's. Who could forget the seductive but homely curves of the Honda Civic, or the macho haunch of the Toyota Crown? And yes, surprising, as it might seem, the futuristic wedge that was the Mirage "turbo, in panther black" has aged rather gracefully. As a kid I could never have imagined that one day my life would be so sad that I would be sitting on the couch feeling nostalgic about a Mitsubishi.
Once we dreamed about being Lost in Space, now it seems we're hopelessly trapped in the past.