Missed chance for rugby bosses and players to emphasise message that domestic violence is unacceptable.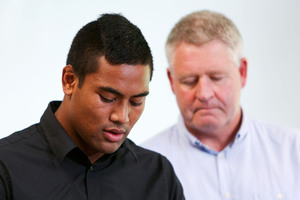 One of the beautiful things about sport is it promotes unity and loyalty.
From a young age players are taught their team is their family and you've got to always have your teammates' back.
That can be a double-edged sword when one of your teammates hasn't done the right thing.
Since it was revealed Hurricanes wing Julian Savea was charged last week with common assault after an incident involving his partner, the reaction of the rugby community has been that of understanding and compassion.
The old adage that sport is a microcosm of society is often trotted out in these instances. It's true sports stars aren't immune to issues that affect wider society, whether that be binge drinking, problem gambling or violence. The only difference is, regular folk who struggle with these demons are considered bad eggs, but when sports stars get into trouble we're often told of their struggles with being in the public eye and the pressures of their profession.
Therein lies an uncomfortable double standard.
We were all quick to condemn the thugs - and rightly so - that set upon Jesse Ryder last month, with many expressing their dismay at an escalating violence culture in New Zealand.
Yet when the Hurricanes and NZRU fronted the media after confirming Savea was to appear in court on an assault charge, we were immediately reminded of the difficulties young players face, with NZRU boss Steve Tew announcing the national body would be reviewing the support structures for its athletes.
"Without judging the rights or wrongs of this case, we are concerned that this is another incident involving a young player.
"We need to find out whether we are doing enough to help these young men cope with the pressures of the professional game," Tew said.
It might be timely for the NZRU to re-examine their systems and how they can better support young athletes as they grapple with the challenges of professional sport. But the announcement of their intentions to do so, as they stood alongside a tearful Savea, was not.
On the surface it was a clever public relations strategy to try to take some of the heat off the young star and play the role of caring employer. On a deeper level though, they appeared to be making excuses for Savea's actions, and in doing so minimising the seriousness of domestic violence. They weren't the only ones. Some of Savea's Hurricanes teammates also lent their support for their comrade, speaking publicly on the difficulties they all face being in the public eye.
The irony of it all is Savea has been one of the frontmen for the "It's Not Okay" anti-family violence campaign.
If Savea's actions didn't make a mockery of that campaign, then the reaction of his rugby colleagues has.
There's more to fronting an issue than being a face on a poster, this was actually a chance for rugby to emphasise the message that domestic violence is unacceptable by condemning Savea's actions.
Instead his teammates reiterated the statements of the bosses and how terribly hard it is to be a decent person when they're under so much pressure.
Stop making excuses for him. It's not okay, under any circumstances.
Debate on this article is now closed.