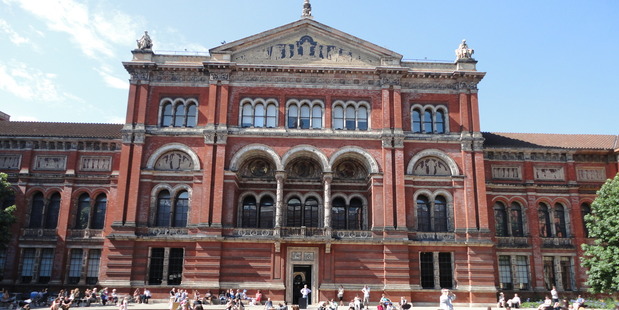 When I lived near London in the 1980s, despite making frequent visits to the city, I never even contemplated visiting the Victoria and Albert Museum.
Totally ignorant of its contents I imagined, completely erroneously, that the V&A was a repository of overstuffed Victorian furniture, moth-eaten taxidermy and gloomy dresses of black bombazine.
I now know much better having stumbled out of the doors after five hours, suffering happily from museum overload and less joyfully from sore feet.
The V&A describes itself as the world's greatest museum of decorative art and design. That seems to me, as a non-museum expert, to have given the museum's curators carte blanche to collect items representing just about every man-made item you could think of (other than those claimed by the British Museum maybe). And since its inception in 1852 they seem to have made a good fist of it - there are 4.5 million objects on display or stored somewhere in the bowels of the museum building which sprawls over 52,000 square metres of South Kensington.
Usually I plan visits to vast museums like a military campaign. This day I decided to do things differently - to simply wander at will.
I began, however, with the one exception the rule- the 16th century Ardabil carpet. This is considered one of the most beautiful examples of classic Persian carpet in the world. Iranians on holiday in London make pilgrimages to the V&A just to see it. I'd been lucky enough to see the modern full-scale replica of it in Iran but had shocked many Iranian friends by telling them I'd never seen the original.
This vast carpet which contains 26 million knots is the centerpieces of the museum's Jameel Gallery with its collection of Islamic Middle East treasures. It lies on the floor in a glass pavilion and is lit for only 10 minutes every half hour to preserve its colours. The carpet was removed from Ardabil in 1890 and after its arrival in London was bought by designer William Morris for £2000. It's now considered priceless.
From here the lure of Indian silks and jewellery tempted me into neighbouring gallery where I came face to face with Tipu's Tiger. It was here I truly fell under the spell of the V&A. Tipu's Tiger is a wooden, almost life-size carved and automated tiger devouring an Englishman. There's a pipe organ and bellows concealed in the tiger's body, which when cranked used to emit the sounds of the tiger's roars and his victim's screams.
Tipu was an 18th century Sultan of Mysore who hated the East India Company and the expanding influence of the British in India. He was also obsessed with tigers so his musical toy perfectly combined two abiding passions.
Past golden Buddahs and Japanese suits of armour I found myself plunged into a perfect piece of Victoriana - the Cast Courts. Still on display in their original halls built in 1873 are full scale replicas of major European sculptures such as Michelangelo's David and two lofty copies of Trajan's column.
During the 19th century collecting plaster casts became very fashionable as few people were able to travel to the Continent to see the originals. The V&A was at the forefront of the commissioning of these. Copies they might be but they speak volumes about the Victorians' enthusiasm for knowledge and voracious appetite for collecting.
Already reeling from the sheer scale of the museum I decided it was time for a cup of tea. But the museum had a surprise waiting. Although there is a modern café area, three original Victorian era rooms are still in use. There's the deep green Morris room (designed by William Morris) and the central Gamble Room with its gilding and columns, Victorian mottos about the joys of eating and drinking and a frieze featuring a verse from the Old Testament: 'There is nothing better for a man than that he should eat and drink, and make his soul enjoy the good of his labour'.
I sat in the Poynter Room, the walls of which are covered with blue Dutch tiles. This used to be the Grill Room and there were separate menus depending on one's social standing. If I'd been a first class visitors I could have ordered jugged hare or steak pudding, but on a worker's salary my choices would have included stewed rabbit or poached egg and spinach.
Fortified, I was ready for the three rooms that comprise the William and Judith Bollinger Gallery - a trio of darkened rooms, where behind thick protective glass glittered a stunning array of jewellery from the time of Ancient Greeks to the modern day.
There were golden Celtic breastplates, gifts from Elizabeth 1, pieces by Faberge, a glorious bandeau of rubies, emeralds and diamonds owned by Edwina Countess Mountbatten, Catherine the Great's diamond dress ornaments, and in an interesting example of synchronicity, an emerald and diamond necklace, bracelet and earrings given to an English major general for defeating Sultan Tipu.
Beyond the jewellery galleries lay rooms gleaming with silver and gold and pale sunlight filtered through a collection of stained glass dating back to Medieval times. I was now suffering from museum overload - all that glisters here really was gold and I knew I was starting to lose all sense of appreciation.
Sometimes, it's the small things that catch your eye, even if they are about to glaze over. Just as I was leaving I stumbled upon a collection of exquisite jewel-encrusted golden snuff boxes. These were created for Frederick the Great of Prussia and were part of a £75 million collection left to the British nation by multimillionaire Sir Arthur Gilbert.
Even then the museum had not finished with me even if I thought I couldn't handle any more. As I left I was inexplicably sucked into a vortex near the exit that turned out to be an exhibition of British ballgowns from 1950 onwards. There were creations by Norman Hartnell, Zandra Rhodes and Alexander McQueen; one of Princess Di's ballgowns; dresses worn by Bianca Jagger and Elizabeth Hurley.
I needed a quiet, empty room in which to recover. Maybe the toilets? I should have know better... the V&A's ladies' loos featured an installation called Six Circles in Disorder. I knew the feeling.
- nzherald.co.nz