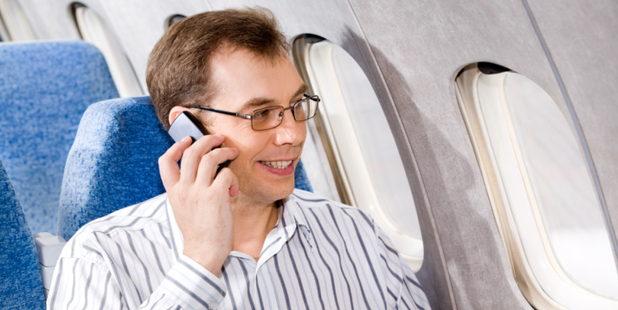 There are few places left where we can be spared from the incessant chirupping and chatting of the mobile phone age.
So thank goodness for airline travel. In the blessed cocoon humming through the sky, we are free for a few hours - perhaps even a day or so - from technology's grasp and the drag of listening to one half of other people's too-loud conversations.
That's all about to change. Emirates A380s are rolling out mobile phone use in all seats. Other airlines are following suit.
At this stage, it's not particularly cheap, but using your phone abroad has never been convenient. As sure as version 2.0 follows version 1.0, the technology will get slicker and cheaper - it could even be that budget airlines find the best ways to get us on the line.
A recent survey by Skyscanner suggests New Zealanders and Australians are against inflight mobile phone use. Of survey respondents, 54 per cent of Australasians said they would not only refrain from inflight calls, but would be "annoyed" by fellow passengers talking on their phone. (Another 24 per cent of Kiwis said they would use their mobile phone inflight.)
An overwhelming 86 per cent of Brits were against inflight mobile phone use. Attitudes are different in Asia,where 63 per cent of Indians surveyed and 59 per cent of Indonesians said they would use their mobile inflight. South Koreans were evenly divided.
I'm no Luddite, but I like the break from connectivity that comes with air travel. With the airborne mobile phone age upon us, airlines have the chance to set in place the practices, customs and manners that will come to be standard in years ahead.
Let's take a lesson from the days of the "smoking section" and let the chatterboxes aboard, but make them all go and sit at the back of the plane.
Travel tucker
Last week's food issue brought in some great reader's tips.
At street markets in Vietnam, "saying: 'Oh my God! Too expensive!' in their language while waving your arms around always gets a laugh, and usually a discount too".
There were some handy universal tips. "Be nice to waiters and waitresses"; "pack some 'emergency' food, muesli bars, nuts, etc, in case [you] get 'hangry' (angry because [you're] famished!)".
Marianne Stevens wins our Lonely Planet Food Lover's Guide to the World. Her tip: In India, keep chugging back the mango lassis. "It keeps the stomach in good condition and the bad bacteria at bay. It is an Indian folk remedy for gastroenteritis."