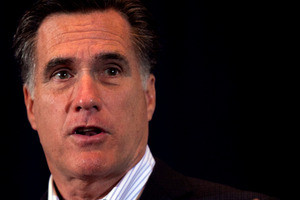 Unexpectedly, it has taken more than three months of sometimes bitter internecine fighting for Mitt Romney to win a clear path to the Republican presidential nomination. The former Massachusetts governor has always been the front-runner and the logical choice for the party crown. But it says much for the weaknesses inherent in his campaign, and his chances of toppling President Barack Obama, that his main rival, Rick Santorum, stayed in the nomination race until yesterday.
Mr Romney has solid credentials for the job of president. An obvious competence in business allows him to present himself as a safe pair of hands, much like Republicans of the past whom Americans turned to in times of economic strife. But his lack of charisma and his championing of moderate policies, which distance him from conservative Republicans, have already cost him one tilt at the party nomination. This year, he appears to have succeeded largely because no truly inspiring or credible alternative emerged during the primaries.
In a divided party, many tried to fill the "anyone but Mitt" role. Names such as Michele Bachmann and Herman Cain flickered briefly, only to have their foibles abruptly disclosed. Surprisingly, Mr Santorum, a virtual unknown in January, offered the most sustained challenge. The former Pennsylvania senator won Iowa's lead-off caucuses and claimed victory in 10 other states. But by this week, Mr Romney had secured more than twice as many delegates and was on course to clinch the nomination by early June.
Mr Santorum's appeal to the religious right creates a dilemma for Mr Romney. He will be tempted to choose a vice-presidential running mate who will bind that vote to him. He might also think of someone with charisma, as John McCain sought with Sarah Palin four years ago. He should resist both temptations. Ms Palin's deficiencies were soon apparent, and Mr Santorum's far-right beliefs include opposition not just to abortion but contraception, and an insistence that climate change is a hoax. This may strike a chord in the Bible Belt but is out of step with mainstream independent voters who will probably decide the November 7 election.
Already, Mr Romney appears to face an uphill battle. Polling shows people tend to like Mr Obama more than him. Even on handling of the economy, the President's area of greatest vulnerability, a new Washington Post-ABC News poll shows there is no greater trust in Mr Romney than Mr Obama. The President is undoubtedly benefiting from signs of a tentative recovery and dwindling unemployment.
There is something dispiriting, however, in the way in which he is attacking his Republican challenger. Mr Obama came to power with a pledge of policies that would bring Americans together. Now, he is constantly criticising the wealthy, and insisting they must pay a greater share of taxes. Such populist and ultimately divisive policies, along with Mr Romney's failure to gain traction, have hastened the formation of American Crossroads, a political action committee that will use tens of millions of dollars of corporate funding to boost the challenger's stocks.
That may prove to be a double-edged sword for Mr Romney, opening him further to Democrat portrayals of a rich elitist. And if many Americans are disenchanted with Mr Obama and his inexperience has been cruelly exposed, they have also been unimpressed by the Republicans' confrontational tactics in Congress. The President now knows that, after a long, hard-fought race, his challenger is less than formidable. And that the weaknesses exhibited by Mr Romney on the primary trail will also hinder his campaign for the White House.