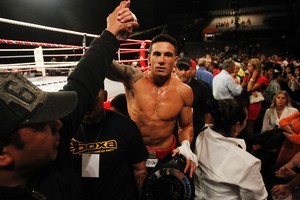 Reading the tale of the tape before this week's New Zealand heavyweight boxing bout in Hamilton, the uninitiated would have been excused for not knowing what the fuss was about.
One man was 1.96m (6ft 5in), 128kg and had 20 professional fights behind him. The other was smaller (1.90m), lighter (108kg) and a relative novice in the ring. And neither is likely to ever get into a scrap with a true champion of the sport, like Wladimir Klitschko.
Yet a few thousand paid to attend to see the smaller man, many more forked out to see the fight on pay-per-view, and tens of thousands of people around the world checked out the result the next day on TV, in print or online.
Welcome to the Sonny Bill Williams phenomenon.
He is the man who can do no wrong (on the field at least). National Rugby League star virtually in his teens, Kiwis hero, rugby union convert who raked in the dollars in the south of France, whisked into the All Blacks on his return home, world champion, budding boxer and partner of a pretty young thing, Jaime Ridge.
Has a man dominated the headlines, on the sports pages and wider, since one Jonah Lomu was running over the top of people?
Of course, there are things Kiwis find harder to understand: the disloyalty to the Bulldogs league club, his failure to commit to the All Blacks long-term, the conversion to Islam and his mateship with the brash Anthony Mundine. Perhaps they're the reasons as many people seemed to watch on Wednesday night hoping that SBW would finally get his beans.
No one doubts he is blessed with superb physical advantages. Maybe he won't follow the path many would with those talents.
But he is 26, living in New Zealand, playing here in his prime. Aren't we best to sit back, watch and enjoy the ride?