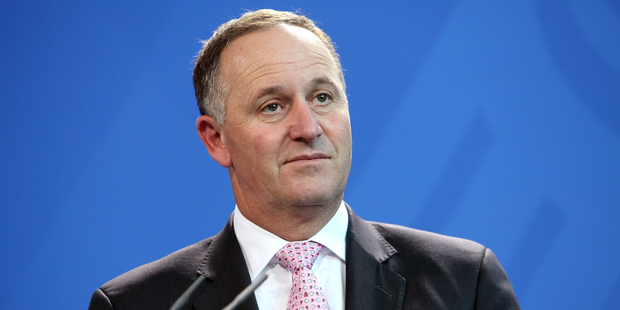 John Key and The Rock FM have come under fire after a distasteful joke about prison rape.
Key was on air when he was asked to go in a cage and "pick up the soap", a clear reference to prison rape.
If it wasn't clear enough, one of the jocks said "you've got a purdy little mouth, Prime Minister", a quote from the film Deliverance which is said to a character before he is raped by two men.
Unsurprisingly, people have taken offense.
@johubris Ah, yes. Allow me to clarify that I was LOLing at the bad karaoke rather than the prison rape joke

— Patrick Crewson (@PatrickCrewdson) December 16, 2015
RNZ pointed out that earlier this year US President Barack Obama condemned prison rape jokes, saying they were inappropriate and had no place in popular culture.
On air, Guyon Espiner called it a "distasteful prison rape joke," and political commentator Bryce Edwards said "I was a bit uncomfortable listening to that."
Commentator and NBR contributor, Matthew Hooton, said "the cage, soap and rape thing was a complete disgrace."
I've been a National Party member for 25 years. I'm gay. And a sexual assault survivor. No, Prime Minister. Rape isn't a joke. @johnkeypm,

— Craig Ranapia (@CMRanapia) December 16, 2015
The Mariah Carey thing was just goofing around. Fair enough. The cage, soap & rape thing was a complete disgrace.

— Matthew Hooton (@MatthewHootonNZ) December 16, 2015
Barry Soper from Newstalk ZB wrote a column asking "does John Key go a step too far" where he said Key wouldn't have been aware of the rape reference.
Gallery reporter Claire Trevett wrote "there's a fine line between his usual schtick and bad taste."
poll among blokes who think rape and sexual violence are funny found 100% approval for John Key as a good bloke & would have a beer with him

— Hamish Keith (@hamish_keith) December 16, 2015
"It was unclear whether he picked up on the rather distasteful connotations of the 'joke' - to prison rape," she wrote, and made the point "Of course he does have a choice: just say no. But he's dug his own grave when it comes to being a good sport."
Earlier, Trevett wrote "no Prime Minister should put himself in a cage, let alone one that ends up with jokes about prison rape."
The Guardian picked up the story in a critical article. They wrote "In the 2011 United Nations Report on the Status of Women, New Zealand was ranked worst of all the OECD countries for rates of sexual violence."
Tracey Watkins also emphasized Key's complicity: "Key did not instigate these stunts - but nor did he say no. Maybe he should have. Commercial radio shock jocks seem hell bent on pushing the boundaries to see just how far Key will go."
On The Mike Hosking Breakfast Michelle Boag said the joke was in bad taste "we've got a serious problem with rape in this country. We can't guarantee he's going to take it seriously."
She admitted she hadn't listened to the radio segment.
Some on Twitter are now calling for White Ribbon NZ to dump John Key as an ambassador.
I think we should all be calling on @WhiteRibbonNZ to dump @johnkeypm as an ambassador. Don't you? #nzpol

— Kyle MacDonald (@kylemacd) December 16, 2015
Actually, yes, @WhiteRibbonNZ, how come John Key is *still* an ambassador?

— jo (@jofromgreylynn) December 16, 2015
The Rock FM has rounded off a year of offensive radio segments with their prison rape joke.
George FM's Thane Kirby and Kara Rickard named and "slut-shamed" women on Instagram this September leading to their suspension and the resignation of a producer live on air.
In July, The Edge jock Dom Harvey faced a backlash after posted an inappropriate picture of Chrystal Chenery doing a mid leg-split on Dancing with the Stars.
That didn't dissuade them from asking Bachelor contestants to deep throat cucumbers a month later.
Alex Casey at thespinoff.co.nz wrote at the time "explaining why no woman should be asked to deep-throat a cucumber live on radio feels completely redundant, and yet thanks to The Edge, that's exactly what we now have to do. "
The contestants were asked to see how far they could get the cucumbers down their throats.