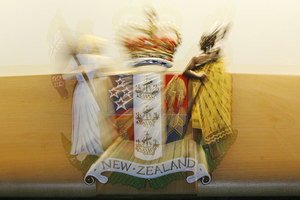 The High Court will decide whether an Auckland man who allegedly stabbed his friend to death in his home was insane at the time.
Psychiatric assessments in March determined Byron James Armstrong, 24, was able to face prosecution over allegations he killed his friend Henry Pan, 24, in February last year.
However, the High Court at Auckland today heard that new reports pointed to the possibility Armstrong could have been insane at the time.
Justice Timothy Brewer scheduled a December hearing and ordered further psychiatrists' reports.
"If the judge is convinced [health professionals] are correct and he was insane at the time, then the judge will be able to enter a finding of not guilty," he said.
If that was the case, the defendant would be held in the custody of a mental health facility.
Since arrest, Armstrong has been in the Mason Clinic, where health professionals have monitored him.
Pan, a 24-year-old student, was stabbed to death in his Half Moon Bay home.
Armstrong was found a couple of kilometres away where he had crashed his car into a tree.
He was bloodied and covered in stab wounds, but his injuries were not life-threatening.
- APNZ