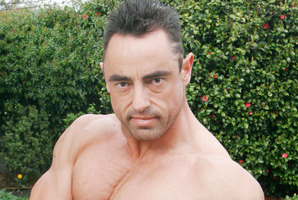 A police bid to seize gold bars and houses a former champion bodybuilder is accused of buying with illegal drug money is ongoing as settlement talks continue behind closed doors.
Phillip James Musson, crowned Mr New Zealand Athletic 2005, was jailed last month for nearly four and a half years after being exposed as the mastermind behind a $1.4 million nationwide drug ring.
Musson, 45, admitted 188 breaches of the Medicines Act, relating to the importation, possession, manufacture and supply of anabolic steroids and related medicines used for sports performance and image enhancement between November 2011 and February 2013.
Auckland District Court was told how Musson operated the large-scale operation, importing medicines as active ingredients from Hong Kong and China.
He was also sentenced on separate charges of importing and selling class C drugs and supplying the class B drug methadone in 2012.
The Commissioner of the New Zealand Police brought a civil forfeiture action under the Crime Proceeds (Recovery) Act to freeze Musson's assets back in April.
Police want to seize gold and silver bars, three houses, a motorbike, trailer, valuable coins and cash.
When the case called in the High Court at Christchurch today, Crown prosecutor Dr Heather McKenzie, representing New Zealand Police, asked for the asset restraining order to be continued while a two-week adjournment was sought for interested parties to continue working on settlement with police.
One of the interested parties is still seeking legal counsel, which has delayed the settlement discussions for everyone, the court heard.
Justice Christian Whata adjourned the case until September 17.
When Musson was sentenced last month, a judge said he showed a blatant disregard for the law, continuing to offend after being served with summonses, and while on bail.
He was assisted in his offending by former Christchurch Cafe owner, Rodney Leonard Bailey, 61, who was previously sentenced to seven months' home detention after pleading guilty to 55 similar charges.
Musson's original business partner, Chetan Viraj Jethwa was given a year's home detention and 300 hours' community work when he was sentenced in September 2012 in Hamilton.
- APNZ