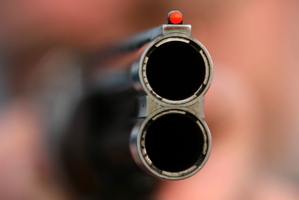 A shooting in Feilding has been described as "random" by a friend of the victim.
A 35-year-old man suffered a minor wound to his hand and was treated at Palmerston North Hospital, after the car he was driving was shot at on Makino Rd on Saturday night with what police believe was a shot gun.
Police said they were alerted to the incident about 8.50pm and the man was in a stable condition awaiting surgery on his hand last night.
A nearby house was cleared by members of the Manawatu Armed Offenders Squad and a 28-year-old Feilding man has been arrested and will appear in Palmerston North District Court today.
Police believe the incident was related to an earlier shooting at 11am on Saturday, when a firearm was discharged at a house on Oakley St in Palmerston North, Detective Sergeant Dave Thompson said.
"A dispute between two groups has escalated to a point where an innocent member of the public has been caught up in the middle of it.
"It's with a huge cup of good luck that we are not dealing with a homicide.
"Although some of the persons involved have gang associations this is not a gang related incident," he said.
A friend of the victim's, Geoff Partridge, said the 35-year-old man was looking for his cousin's house and had pulled over to the side of the road to look at a number on a letterbox when he was shot at from a house on the residential street.
He said there were hundreds of holes in the man's car and the windscreen had shattered.
Mr Partridge said initially the man thought his car had blown up.
"It took him half a second to realise what had happened."
The man then drove to his girlfriend's house around the corner and was taken by ambulance to hospital.
Mr Partridge said he thought the shooting seemed "random," and his friend was not from Feilding.
Police inquiries are continuing. Anyone with information concerning either the incident on Oakley Street or Makino Road should contact Detective Scott Rankin on (06) 351 3600. Information can also be provided anonymously to Crimestoppers on 0800 555 111.
- APNZ