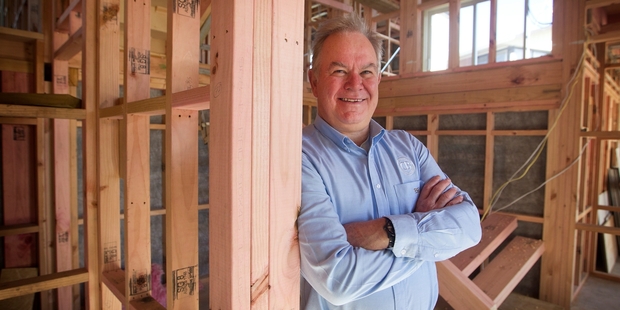 Grant Florence freely admits he's a disaster zone when it comes to DIY.
But as head of the Certified Builders Association of New Zealand, he helps to ensure building a dream home doesn't become a nightmare.
The Tauranga-based trade organisation was formed in 1998 by a group of builders concerned that cowboy operators were giving the industry a bad name.
Created to recognise, train, support and promote qualified builders, only trade-qualified builders can belong to the Certified Builders Association.
Florence is no tradesman, but has spent more than 25 years in the building industry.
He says he "came in through the back door", originally recruited by Fletcher Residential to establish a mortgage bank in the mid-80s. Since then he's stuck with the building industry in one way or another through much of his career.
"I understand the industry and I know the industry but I'm not a builder," he says. After a stint as board member-turned-chief executive of Surf Life Saving, Florence joined Certified Builders in late 2011.
"One of the attractions [was] it's such a neat product. Because I've always focused on the residential side.
"A house, to the homeowner, it's a huge purchase and it's got huge emotional attachment to it."
He also liked the fact that it wasn't an organisation for all-comers - it was differentiated by a trade qualification being the minimum level for entry.
Florence says the introduction of licensing in March 2012, part of the legislation created to address the multibillion-dollar leaky-building problem, was a good step for the industry.
"We see the two as quite separate but I know that probably 99 per cent of our members are licensed as well so we just saw that as an add-on to something that we were already promoting." It was a hot topic at the association's annual conference in Hamilton last month.
The legislative changes will require builders to have written contracts, provide information on their relevant backgrounds and qualifications and disclose their insurance and warranty cover for residential building work valued at more than $30,000.
Failure to do so could see builders hit with instant fines of $500.
Building and Construction Minister Nick Smith told those at the conference the changes would come into effect on January 1.
The new requirements have been well broadcast by the association, says Florence, but he is always surprised when he gets calls from homeowners telling him about large building projects that have gone off the rails without a contract in place.
"I mean, they buy a car or something that is a 10th of the cost and have some sort of formal documentation or contract around that."
The conference itself attracted 600 builders - up 30 per cent on previous years, says Florence.
He says in part that reflected a general buoyancy in the industry, which is starting to see growth outside the main centres, and a focus on content relevant to its training and development needs.
There's also been good growth in membership, even during the global financial crisis, when some builders got out of the industry or went to Australia for work, says Florence.
"A lot of that [membership growth] is due to the fact that builders coming into the industry realised that they need to get equipped in a way they've never been required to in the past and look to associations like ourselves to help them do that, which is part of the enjoyment and challenge of the role."
Also challenging is a looming skills shortage, particularly in Auckland and Christchurch. Florence says the industry forecast that problem about 18 months ago, but it is just starting to bite.
For its part, Certified Builders is working to create new services to help its members become better businesspeople, as well as equipping new apprentice builders for the industry through links with training organisations and members providing job placements.
"I think that our members who take up apprentices, they do it for the right reason.
"They do it because they want to help young people, not necessarily for cheap labour, so there is an ingrained value around that which supports the health and development of the industry." Apprentice numbers fell during the slowdown but all the training organisations are experiencing growth again, Florence says.
"The willingness to take on an apprentice during a down time is difficult and it's one of those byproducts, I suppose, of operating in a cyclical industry, which is a challenge for everybody in it."
Even though today's building site has seen the introduction of technology and new building methods, the basics required to be an apprentice are unchanged.
"Time and time again I hear employers say 'I'll take on anybody as long as they've got the right attitude'."