The inquest into the Carterton hot air balloon disaster left victims' families reeling from revelations about the balloon's pilot — and asking why authorities didn't act. Rebecca Quilliam of APNZ reports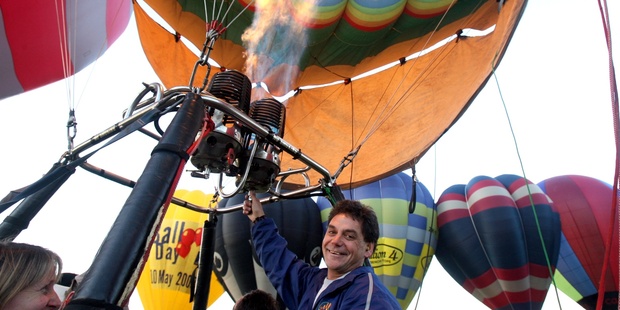 "He would have never, ever got in that balloon if he had known."
Kate Turner's children lost their dad, Howard Cox, when a hot air balloon struck powerlines and crashed in flames near Carterton on January 7, 2012.
She has no doubt that knowing the history of complaints about pilot Lance Hopping would have stopped her ex-husband from taking the flight.
"We've all said he would have never, ever got in that balloon if he had known a) that Mr Hopping's medical certificate had expired, and b) that he was a cannabis user," she said.
"Sooner or later, something like January 7 was going to happen."
Turner was among the family members of the 11 victims who were dealt a bombshell this week, on the last days of the inquest into the deaths, learning that the Civil Aviation Authority (CAA) knew about previous complaints into Hopping - his binge drinking, drug use, and cheating on an exam.
She wants to know why the CAA didn't investigate further when they were alerted to Hopping's history - including an allegation that on one occasion, he was too drunk or too high to fly.
The inquest this week drew to a close the formal investigations into the crash, which have included a Transport Accident Investigation Commission (TAIC) inquiry and a CAA investigation.
Coroner Peter Ryan has indicated it will be about two months before he can issue a ruling.
The inquest was held over more than two months, with the first week in May and the final three days this week.
During the hearing, the public gallery at Wellington District Court was filled with family members of the victims.
On the penultimate day, a 52-page CAA report was made public, detailing several historic complaints about Hopping, including issues about his drinking and drug-use.
The CAA knew Mr Hopping had cheated on a flight test and admitted, during a medical examination, to binge drinking.
After the test incident, Hopping was banned from sitting that exam for six months, and following the binge drinking admission, further medical certificates showed he had cut down.
The report also detailed accusations that on at least one occasion Hopping was either "too pissed or too high" to take a flight out, and another allegation that an on-board crew person had to take over the controls of the balloon because he was "incapable of landing it on his own due to impairment".
Though Hopping's flights were monitored, the CAA never stopped him from flying.
The inquest, more than two years after the crash, was the first time family members had heard of the complaints.
The lawyer for some of the families, Alastair Sherriff, fought to have the report released.
He said when he read its contents he was "very surprised and ... very disappointed".
As a result of the inquest, his clients wanted changes in the way the CAA regulated the aviation industry.
Bronwyn Brewster, who lost her parents, Desmond and Ann Dean, was furious at the evidence in the report.
"It doesn't help the situation, it makes it worse for us," she said.
Allan Still, whose daughter Alexis leapt from the burning basket with her boyfriend Chrisjan Jordaan, said the CAA could have stopped the fatal flight.
"[The CAA] had the capacity and the authority to prevent that balloon from lifting off the ground on the 7th of January and they didn't take that opportunity," he said.
Nikki Newport and Ruth McIntosh lost their brother Stephen Hopkirk. Newport said the CAA did not take "credible action" over the accusations. "If the CAA can't act over those red flags, what can they act on?" she asked. McIntosh said she left the inquest "feeling sick".
During the inquest, Sherriff put to the general manager of the CAA's aviation infrastructure and personnel group, Chris Ford, that if the allegations against Hopping had been in the media before January 2012, no one would have flown with him.
"That's a fair assessment," Ford replied.
The CAA director at the time of the crash, Steve Douglas, commissioned the report into the authority's handling of complaints about Mr Hopping.
Bruce Corkill, QC, began looking into the allegations two months after the crash, noting each complaint and red flag on the pilot's file.
In his report, Mr Corkill said it was reasonably clear that when the complaints were lodged against Mr Hopping, the CAA took them seriously and steps were taken to address the concerns.
"An interview was planned [and] inquiries were made of the police."
The investigators took a number of factors into account, including infighting among some in the balloon community and that "no member of the public - who would surely have noticed a pilot flying a balloon while impaired - had come forward to raise such a concern", Corkill says.
He found that though the investigation was carried out properly, there were breaches in record-keeping by the investigators.
He also found "significant resource issues" affecting one of the investigators' ability to continue looking into the complaints in "a more proactive fashion".
But he did not consider those breaches should be regarded as a matter of discipline.
CAA investigators also checked with police, who said they had no knowledge of cannabis use by Hopping. Toxicology results from tests after the fatal crash showed Hopping had cannabis in his system. He was also flying with an expired medical certificate.
When asked this week why the CAA didn't ground Hopping, Director of Civil Aviation Graeme Harris said the matters raised, which spanned more than 20 years, were dealt with appropriately.
The exam issue, in 1994, was fully investigated and dealt with.
Another complaint relating to Hopping "impersonating" a CAA member was reviewed, but did not constitute a safety concern.
The pilot's "binge" drinking was recorded 10 years ago by a medical examiner, and based on all the evidence available, withholding his medical certificate wasn't justified.
Harris said the decision to revoke any pilot's licence was serious and required an evidential threshold.
"The CAA does use its powers to revoke pilots licences when it considers future safety performance is at risk and has done this on 23 occasions since 2003.
"None of these examples, that occurred over a very long period of time, could be presumed to give credible evidence to say that Mr Hopping's future safety performance was in question."
Harris said that when he received the report in December 2012, he accepted its findings and introduced changes such as improving record-keeping.
"As noted in the investigation report, the CAA had made several changes to the way in which (cases) are handled and investigated."
He would not be drawn on what he would do if he was faced with the same sort of allegations about a pilot who could have been drunk or high, as were levelled against Hopping.
"The role of the regulator requires the exercise of judgment based on a case-by-case basis," he said.
"A range of interventions are available to the director if satisfied that a pilot is not a 'fit and proper' person. This can include suspension or full withdrawal of aviation documents. This requires a high level of proof and cannot be based on hearsay or speculation."
Sally Livingstone from Early Morning Balloons, who worked with Hopping, declined to comment about the report.
But during the inquest she said that, as a contractor, Hopping was in charge of the maintenance of the balloon and was required to have a current balloon pilot licence and medical certificate, although they did not monitor this closely.
Hopping also has support of some in the ballooning industry, with operators describing him as utterly professional - and the allegations in the CAA report as a shock.
Balloon Aviation Association president Martyn Stacey backed the CAA in how they dealt with the complaints.
They were properly regarded as rumour, "not fact", and the CAA dealt adequately with Hopping being caught cheating on the exam, he said.
"I've never noticed him drunk or out of his tree or anything like that. In fact, I was quite shocked when they said he was on drugs."
Another industry member, who did not want to be named, also backed Hopping and said he had always acted in a professional manner whenever she dealt with him.
"The CAA did what they were supposed to do and they did act in a correct manner."
That view is backed by friends of Hopping, who said they were stunned at the allegations in the CAA report.
They maintained he was an honest man, who was vigilant in safety requirements. The report was a continuation of "hanging him out to dry", said friend Matt Carter.
Carter said his friend was being made out to be a "terrible, shocking person".
"How much do you want to slam him when he's gone? Don't you think he's had enough?
"Lance was, there's no doubt about it, a good pilot and he did a lot of good things in the community, and he's just being hung out to dry in every which way."
Friend Gary McPhee said: "The Hoppy I knew would never do anything like that, that's for sure."
He said he was surprised at the report's allegations. "He was a good, honest gentleman."
The Government has been cautious in speaking out before Coroner Ryan releases his finding.
A spokesman for Prime Minister and Tourism Minister John Key said: "The Prime Minister has said many times that it is completely unacceptable for anyone in a safety-critical role to be impaired by drugs or alcohol, and that safety is taken very seriously. However, he can't comment on any matters involved in a continuing inquest."
Associate Transport Minister Michael Woodhouse said he believed the CAA took the appropriate action in commissioning an independent review, but would not comment further.
Yesterday the Ministry of Transport began public consultation on a review of the Civil Aviation Act 1990 and the Airport Authorities Act 1966.
Ministry of Transport general manager, aviation and maritime, Nick Brown said the reviews were a chance to improve the legislation, and make sure decision-making was effective and efficient.
The public can have a say until October 31.
The evidence
Facts and allegations on Lance Hopping's CAA file:
• In February 2010, a passenger allegedly told a third party a flight needed to be cancelled because Hopping was too high or drunk to perform piloting duties.
• In another alleged incident, Hopping needed help from a colleague to land the balloon because he was too impaired.
• Hopping was alleged to have sold cannabis to patrons of a biker bar he managed.
• On his 2004 medical certificate, Hopping records drinking 24 cans of beer weekly, mostly in weekend drinking sessions.
• A historical incident in which Hopping was found with an unauthorised notebook at a flight exam.
• Hopping impersonated a CAA employee in asking another pilot to show documentation.
Key dates
• January 7, 2012: A hot air balloon carrying 10 passengers and a pilot crashes into a Carterton field, killing all on board.
• February 24, 2012: A Transport Accident Investigation Commission (TAIC) inquiry finds three areas of non-compliance in the balloon.
• May 10, 2012: A TAIC report reveals Hopping had cannabis in his system.
• February 23, 2013: CAA blames errors made by Hopping as partly responsible for the crash and reveals his medical certificate had lapsed.
• May 12, 2014: The coronial inquest begins into the deaths of all 11 passengers.
• July 30, 2014: The inquest ends.
- APNZ