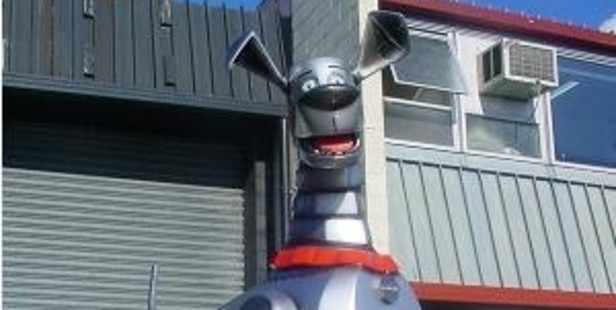 Some stories making headlines across our regions today are: Who stole the Total Span dog from Napier and how did they do it? Rotorua has an injured falcon, with foul play suspected, and the Kaitaia community are pulling together for an elderly lady whose house was crushed by a tree.
A giant dog which has been doing the rounds in Napier as the mascot for steel building manufacturer Total Span proved irresistible for thieves.
The fragile arrangements created by Bay ladies Colleen Fellingham and Christine Willoughby could easily be mistaken for floral art but the ladies are in fact skilled cake decorators.
Friends of the Kaitaia woman who narrowly escaped death when a falling tree crushed her home are appealing for help to replace her wrecked furniture.
One of the falcons at Rotorua Museum has been injured, and the possibility she was deliberately harmed is not being ruled out.
The burgeoning population of Canada geese at Masterton's Henley Lake is causing a headache for district councillors, and the emergence of some radical ideas to control them.
And, three months after buying former Wanganui district councillor Michael Laws' nameplate in a Trade Me auction, the winning bidder has yet to receive the goods.