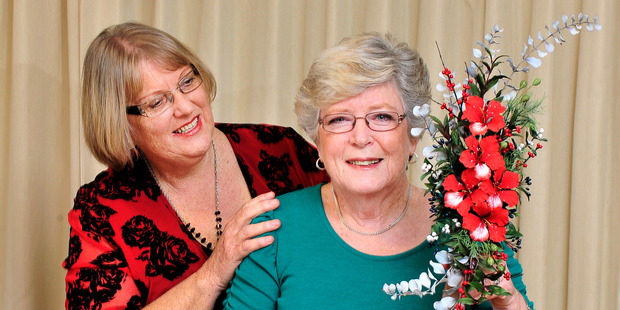 The fragile arrangements created by Colleen Fellingham and Christine Willoughby could easily be mistaken for floral art but the ladies are in fact skilled cake decorators.
Colleen creates her delicate flowers with cold porcelain while sugar crafted flowers are Christine's speciality, and the results are equally fabulous.
It can take up to 80 hours of work to complete one of their award-winning arrangements.
"Supplies can be hard to find and expensive but there are some creative home-made solutions. We make our own cutters from beer cans," Colleen says.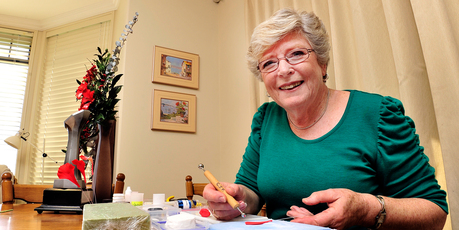 The friends each developed a passion for cake decorating many years ago. Christine says that for her it all started when she was "just a little tinker" and discovered a decorated cakes stall at a flower show in Morrinsville.
In 1994 Christine founded the Tauranga Cake Decorators Guild which now has more than 40 members.
"It's a great club where everything is about sharing and friendship," Colleen says, and Christine adds that the talent in Tauranga is exceptional.
Colleen enjoys giving demonstrations and Christine is a qualified national judge. They both enter competitions but they say there are not enough of them. The next big event on their calendar is the annual Wellington sugarcraft competition.
"Travelling can be a real nightmare, especially to Wellington as State Highway 1 is full of bumps," Christine says.
"I wrap every leaf in tissues and use an insulated box to minimise damage, but it's best not to look on the way.
"It's nerve-wracking."
Christine reveals that bumpy roads are not a sugar craft artist's worst enemy.
"Icing keeps as long as it stays dry and the ants don't get to it. I've had to deal with a major invasion recently so I'm sure you can imagine how much heavy duty ant killing has been going on."
The Tauranga Cake Decorators Guild is organising a demonstration day on Saturday, July 19 at the Wesley Church Hall on 13th Avenue, Tauranga.
The event is open to the public and entry is $30 for a full day or $20 for a half day which includes lunch.
There will be traders and the programme includes demonstrations by renowned cake decorators Helen Dissell, Beth Fuge, Wendy Harland and Colleen Fellingham.
Contact Christine Willoughby on 544 3087 or email chrissie@cakesbychrissie.co.nz.